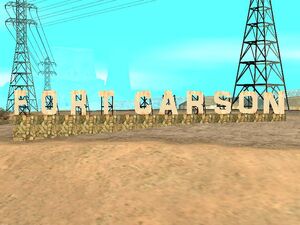 Fort Carson is the largest town in Bone County in San Andreas. It is based on the real world town of Bishop. Unusually, roadside signage of the town indicates an estimated population of 369, far smaller than any town in Red County. Also it is the county seat, as indicated by the small red building in the main street, having been significantly undeveloped as of 1992. North of the town is Area 69, as well as the smaller town of Las Payasadas. There is an Ammu-Nation and Cluckin' Bell just outside of town. The town is located west of Las Venturas. A small Cropduster is known to appear next to one of the houses near here and it is flyable. Fort Carson also boasts five Motels. A miniature version of the Vinewood sign is perched upon a hill on the Eastern side of the town, though the name is changed accordingly.
The Lil' Probe Inn, a fictional bar/motel, is located north from Fort Carson. The Lil' Probe Inn is actually a parody of the Little A'le Inn in Rachel, in which the interior of the Probe Inn matches the interior of the real life Little A'le Inn. Down the road from the Probe Inn is Area 69.
The Big Ear, a large satellite dish located west of Area 69, is claimed by the official Grand Theft Auto: San Andreas website to emit radiation that resulted in birth defects in the local populace, in which its newborns have no ears. There is also a big mast located on the hill where The Big Ear is situated, north of Fort Carson, and can be seen from miles around. Apparently, the mast is used to broadcast radio signals throughout San Andreas, such as K-Rose and WCTR.
Fort Carson is also seen in The Introduction.
History
Henry Bolt, Colonel of the 66th Cavalry stationed in Fort Carson, in 1842 led them towards Las Barrancas. The entire force fell into a hole on their journey. A tribute, the Barrancas Mass Grave, stands in memory of Colonel Henry Bolt and his forces. [1]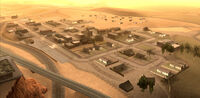 Notable places/landmarks
Businesses
Weapons
Vehicles
References