Flowers are a weapon and a gift featured in Grand Theft Auto: San Andreas.
Description
Grand Theft Auto: San Andreas
As the name says, the Flowers are a bunch of pink flowers which can be carried by the player as with any club-based melee weapon.
Performance
Grand Theft Auto: San Andreas
Since the flowers can be used as a weapon by Carl Johnson, they unrealistically inflict slightly more damage than regular fist fighting. Strangely enough, flowers can easily blow up gas pumps in the gas stations.
Flowers can also be given to Carl's girlfriends as a gift and carrying them in the weapon inventory will cause the sex appeal level to rise.
GTA San Andreas Overview



Weapon Statistics - 3D Universe

Damage
Fire Rate

[?]

Range
(m / ft)
Ammo Specifications/
Capacity
Reload Mechanism
Reload Speed

Weapon.dat

N/A
N/A
N/A
N/A
N/A
N/A

Observed

N/A
N/A
Cannot be determined
N/A
N/A
N/A
Image Gallery
Locations
Grand Theft Auto: San Andreas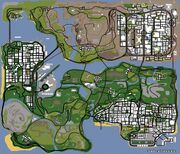 The flowers have a total of 39 locations, being by far the weapon with most spawn points in the game.
Behind the

69 Gas Station

in the southeast of Flint County
At the end of a hairpin turn west of the Flint Intersection
In front of the gas station next to the RS Haul depot
On the Flint Intersection close to Los Santos
Between some trees, on top of a plateau, on the southeast side of a trail, at the end of a pointy rock
In front of the large house in the north of Bayside
By a home along a dirt road on the hill west of El Quebrados
Behind the Xoomer Gas Station in El Quebrados
In front of the plaque on the west side of Sherman Dam
Trivia
Grand Theft Auto: San Andreas
In the gta3.img file(s), the Flower is called "flowera" suggesting that there may have been an alternative flower model. In fact, the HUD icon shows a flower bouquet rather than simply a bunch of flowers, as well as a different variation of the same.
Navigation
Weapons
Lists
Types
Weapons in
Categories
Related topics