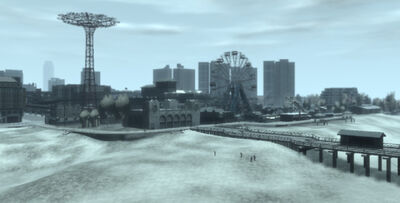 The Firefly Island Beach is a beach in Firefly Island, Broker in Grand Theft Auto IV.
Description
It is the widest sandy beach in Liberty City and begins at Beachgate in the east and ends at Hove Beach in the west. Unlike most other beaches around Liberty City and Alderney City, the beach is relatively free of litter and obvious pollution. Several rock breakwaters split the beach into sections.
On the beach is a large pier, which is connected to the Alexander Boardwalk. A large changing room block is located near the Memory Lanes bowling alley at the east end. There are several rotundas and binoculars along the boardwalk overlooking the beach.
There is a small children's adventure playground on the east side of the pier and a lifeguard chair nearby.
The beach is largely un-populated during the events of the games, but small groups of tourists (some holding cameras) can sometime be found during the day and smaller groups of tramps will often be on the beach even at night.
Influence
It is based on Coney Island Beach.
Gallery
Community content is available under
CC-BY-SA
unless otherwise noted.