"
You might think that calling something "utterly nondescript" and "profoundly unattractive" would be a contradiction in terms, but look closely: the FQ 2 is a masterclass in having things both ways.
"
—
Southern San Andreas Super Autos
description.
The Fathom FQ 2 is a midsize luxury crossover SUV found in Grand Theft Auto V and Grand Theft Auto Online.
Design
Grand Theft Auto V and Grand Theft Auto Online
The design of this car appears to be influenced by the North American styling found on the second generation Infiniti FX, sharing its iconic front fascia, grilles and lighting arrangement, as well as major inspiration from its greenhouse area, rear-side bumpers and front fenders.
The design of the car is mostly rounded, where the lower side of the front end features a large rectangular intake with five horizontal bars on the centre and two small mesh intakes on the outer edges. On the upper side, a large curved grille occupies the central portion, while the outer portions are occupied by black housings going upwards, featuring a set of circular lamps and two turn signals.
The sides of the car feature bulky front fenders and slightly flared rear arches. A concave detail can be seen from the front fenders and runs towards the rear handles, slightly becoming flat with the rest of the body. The greenhouse area features various black trims, namely the portion above the windscreen, the lines on the roof, the trims around the windows and the rear-view mirrors.
The rear end features a slightly protruding rear bumper housing the exhausts below. The boot area features a chrome line above the license plate and the corresponding badges. Its tail lights are located in black housings, which extend through the sides, towards close to the rear doors.
The car is prominently painted in a primary colour, while the arches and the lower portions are painted in a secondary colour. It shares the same rim design with the Minivan and the Asea, albeit larger and wrapped in high-profile tyres.
In the enhanced version of the game, the FQ 2 features a chrome line centralized onto the main front grille.
Current Design Gallery
Performance
Grand Theft Auto V and Grand Theft Auto Online
The FQ 2 has decent handling and sub-par acceleration, as to be expected. The suspension is more focused on comfort, however the FQ 2 is enjoyable to drive on a winding back-road, thanks to its nimble handling, nippy braking and moderate suspension, susceptible to many inclines, thanks to its coupled all wheel drive layout which also maintains speed whilst sustaining traction. The top speed is surprisingly better than a handful of other SUVs available.
The FQ 2's engine and AWD drivetrain works hard to propel it off the line, making the FQ 2 faster than other vehicles in its class. The potent engine is shared with various other cars, such as the Super Diamond, and makes the large FQ 2 feel peppy, and it has a lot more get up and go compared to other SUVs in its class. But brakes, on the other hand, are below average, often requiring a lot of room for the FQ 2 to come to a complete stop. Since the vehicle's handling is nimble and the the suspension is stiffer, the FQ 2 is a rather fun and exciting SUV to drive compared to other vehicles in its class, especially on winding roads. Crash deformation is ok, but could be slightly better. Other SUVs can take more abuse than the FQ 2, but its engine can take several direct blows before it erupts in flames.
While the engine cover reveals an apparent turbocharged V8, the in-game model underneath it is actually a turbocharged double-overhead camshaft Inline 4, laid longitudinally, in a front engine, all wheel drive configuration.
GTA V/GTA Online Overview



Vehicle Statistics - Grand Theft Auto V and Grand Theft Auto Online

Acceleration
(0-60 mph in Seconds)
Top Speed
(mph / kmh)
Gears
Engine
Drivetrain
(FWD / RWD / AWD)
Mass
(kg / lbs)
Fuel Tank
Size (litres)

Handling.meta

[?]

N/A
84 / 135
5
N/A
AWD
40% FWD
60% RWD
2400 / 5291
65

Website Statements

[?]

/ Badges

N/A
N/A
N/A
N/A
N/A
N/A
N/A

Observed

8.3 Seconds
105 / 169
5

F4

V8 (Cover)


F4

DOHC

Turbocharged Inline-4 (In-game model)
AWD
Cannot be observed
Cannot be observed

Rockstar Games Social Club

Speed
Acceleration
Braking
Traction
Modifications
Grand Theft Auto V and Grand Theft Auto Online
Category
Modification
Cost (GTA V)
Cost (GTA Online)
Armor
No Armor
$100
$200
Armor Upgrade 20%
$500
$4,500
Armor Upgrade 40%
$1,250
$7,500
Armor Upgrade 60%
$2,000
$12,000
Armor Upgrade 80%
$3,500
$21,000
Armor Upgrade 100%
$5,000
$30,000
Brakes
Stock Brakes
$100
$200
Street Brakes
$2,000
$4,000
Sport Brakes
$2,700
$5,400
Race Brakes
$3,500
$7,000
Engine
EMS Upgrade, Level 1
$900
$1,800
EMS Upgrade, Level 2
$1,250
$2,500
EMS Upgrade, Level 3
$1,800
$3,600
EMS Upgrade, Level 4
$3,350
$6,700
Explosives
Ignition Bomb
N/A
$5,000
Remote Bomb
N/A
$7,500
Horns
Main article: Los Santos Customs/Horns
-
-
Lights
Headlights
Stock Lights
$100
$200
Xenon Lights
$300
$3,000
Neon Kits
Main article: Los Santos Customs/Lights
-
-
Loss/Theft Prevention
Tracker
N/A
$2,000
Full Coverage
N/A
$6,250
Plates
Blue on White 1
$50
$200
Blue on White 2
$50
$200
Blue on White 3
$50
$200
Yellow on Blue
$75
$300
Yellow on Black
$150
$600
Respray
Main article: Los Santos Customs/Respray Colors
-
-
Sell
Sell Vehicle
N/A
$5,000
Suspension
Stock Suspension
$100
$200
Lowered Suspension
$500
$1,000
Street Suspension
$1,000
$2,000
Sport Suspension
$1,700
$3,400
Competition Suspension
$2,200
$4,400
Transmission
Stock Transmission
$100
$200
Street Transmission
$2,950
$5,900
Sports Transmission
$3,250
$6,500
Race Transmission
$4,000
$8,000
Turbo
None
$500
$1,000
Turbo Tuning
$2,500
$30,000
Wheels
Main article: Los Santos Customs/Wheels
-
-
Windows
None
$100
$500
Light Smoke
$200
$1,500
Dark Smoke
$450
$3,500
Limo
$700
$5,000
Image Gallery
Grand Theft Auto V and Grand Theft Auto Online
Notable Owners
Locations
Grand Theft Auto V
Grand Theft Auto Online
Enhanced version
Rewards
Grand Theft Auto Online
Trivia
The beta name of this vehicle was Lemniscate, the shape of the symbol "infinity", a reference to its real-life automaker. It featured chrome elements on the bumpers and window trim.
The name FQ 2 is a play on the phrase "Fuck you too."
The default radio station of this vehicle is WorldWide FM.
Bugs/Glitches
Grand Theft Auto V and Grand Theft Auto Online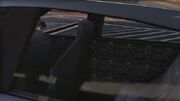 Sometimes, the door interior textures will be bugged and replaced by the radio textures.

This issue has been corrected in the enhanced version of the game.
References