"9 inches, 7 houses, 28 cars... I've always been about the stats and I'm all in favor of anything that encourages my fans to watch me more closely. I love the fact that grown men now fantasize about me just as much as the young girls. It's a turn-on..."
―Ernesto, on Fantasyleaguebatswingers.com.
Ernesto Asaltacunas is a celebrity in the Grand Theft Auto series, who appears as an unseen character in Grand Theft Auto IV.
Biography
Ernesto Asaltacunas, born in Santa Clara, Cuba, is the star power pitcher for the Liberty Swingers and has a history of dating very young girls, including thirteen year old heiress Jill Von Crastenburg. It is implied that Asaltacunas is a pedophile. He has been arrested on two occasions: in 2005 for a criminal sex act on a minor and then in 2006 for possession of a controlled substance (namely steroids). He was also caught with child pornography, although charges were later dropped, and was the central figure in a 2006 doping scandal at the Liberty Swingers.
He is likely a parody of famous Yankees baseball player Alex 'A-Rod' Rodriguez, also accused of steroid-use and a high profile, well paid player befitting Asaltacunas' status. His relationship with Jill Von Crastenburg is also similar to Rodriguez's rumored affair with Madonna. Asaltacunas is also partially a parody of twin brothers Jose Canseco and Ozzie Canseco, both Cuban baseball players who used steroids (but never accused of pedophilia).
LCPD Database record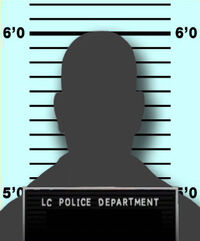 | | |
| --- | --- |
| Surname: | Asaltacunas |
| First Name: | Ernesto |
| Age: | 27 |
| Place of Birth: | Santa Clara, Cuba |
Affiliations:
Criminal Record:

2005 - Criminal Sexual Act: Minor
2006 - Possession Controlled Substance: Steroids



Notes:

Star Power Pitcher for the Liberty Swingers.
History of dating very young girls.
Believed to have had a relationship with teen heiress Jill Von Crastenburg.
Caught in the possession of child pornography but charges were dropped.
Central figure in a 2006 doping scandal at the Liberty Swingers.
Trivia
Asaltacunas means "Cradle Robber" in Spanish and is a slang term referring to people who date or have sexual relations with people under 18, referring to his pedophilia.
Community content is available under
CC-BY-SA
unless otherwise noted.