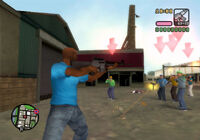 Empire Building is one of the new features added to the Grand Theft Auto series in Grand Theft Auto: Vice City Stories. This feature is a mix of the properties from Grand Theft Auto: Vice City and gang territories in Grand Theft Auto: San Andreas.
Overview
In Vice City circa 1984, Vice City was a growing city. Economic opportunities were available to anyone who could afford them. Victor Vance, after killing Marty Jay Williams, gains access to these sites.
Since its creation, the Vance Crime Family was a criminal organization using several sites as base of operations for multiple criminal activities, most of them disguised as legal front business. There are three levels that each business can go through: Small-time, Medium Venture and High Roller. The larger the business, the larger the profit. The daily income is paid every day at 16:00, unless you're on a mission (in which case it's paid after the mission ends).
The empire sites come under constant attack from rival gangs, because to gain new sites, the player must seize them from other gangs and they will try the same in return. However, empires will only come under attack if Vance starts a war with the rival gang, which is activated when taking over one of their empire businesses. If the rival gang succeeds in damaging the site, its daily income will drop, or rarely, it can even be seized by the other gang. In order to return a damaged site to full capacity, Vic will need to pay a repair fee (this fee also has to be paid before a site can be further developed).
These sites, when entered, have members of Vic's gang inside. Some will start missions when spoken to. These missions are based around the operation's business, so Smuggling businesses yield smuggling missions. Additional gang members can be found on the street outside; these gang members can be recruited to assist Victor in taking over other gang businesses, and will also immediately attack any enemy gang members that come close to a Vance property.
As an added bonus, sites controlled by Victor also act as safehouses, with a save point somewhere within the premises. No garage, health or wardrobe services are available, however most business sites spawn some sort of vehicle outside.
Upon creating a High Roller empire site for a business, Vic unlocks a new clothing item, again, something related to the business that unlocked that particular item. Each business also has a vehicle that is either not found anywhere other than that particular business, or a vehicle with increased statistics.
Once all thirty empire sites are taken over by the player, the vehicles that spawn outside of them will become bulletproof. In addition, much like gang warfare in GTA San Andreas, attacks on properties and random attacks on Vic will also cease (for the most part; occasional random attacks by Cholos members on foot may happen, but they will not attack businesses once all 30 are purchased).
Attacking a Business
To make profit throughout the game, conquering enemy businesses is necessary to progress. The player must first destroy the rival's car/bike parked outside the building. Next, gang members will come out to defend their turf. Once defeated, the player must eliminate the remaining members and destroy business assets inside the building. After attacking and seizing an enemy business, the gang that previously owned it will send even more enemies after you, making it hard to get to the next site you want to attack. The Cholos will send two members in a Cholo Sabre armed with Baseball Bats, Micro SMGs, and Pistols. The Bikers will send two members on a bike armed with Micro SMGs and Scorpions. The Sharks are the deadliest, as they send four members in a Gang Rancher armed with MAC-10s, MP5s, Micro SMGs, and AK-47s.
Once that is completed, the business is put up for sale, and can be turned into any business venture.
Business Types
There are six available businesses to construct, with each one being a different size ranging from Small-Time, Medium Venture, and High-Roller. They are identified as:
Legal business: Are operated by weak goons, who uses Baseball Bats and Pistols.
Illegal business: Are operated by strong goons, they use Mac-10s and AK-47s. These businesses are locked at first, and become unlocked by attacking and successfully taking over a business that has one of the three illegal businesses and by completing the mission From Zero to Hero.
Notes
Status in GTA Vice City
In 1986, two years after the events of GTA Vice City Stories, it is assumed that the Vance crime family has lost control of all of the empire sites, as they are no longer there and have either become an entirely new building or just an empty lot. From north to south on each side of the city, the locations of the former sites have become:
Mainland
Downtown
Little Haiti
Little Havana
Vice Beach
Vice Point
Vice Point Island
Washington Beach
Ocean Beach
Gallery
Glitches
Video
Trivia
See Also
Community content is available under
CC-BY-SA
unless otherwise noted.