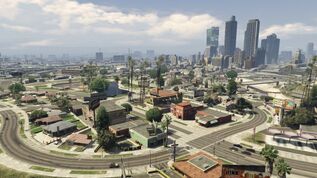 East Vinewood is a neighborhood located in Los Santos, San Andreas, in Grand Theft Auto V. The area also contains the sub-district of Mirror Park and the park of the same name.
Character
East Vinewood would appear to be a middle-class neighbourhood judging from the many single story family homes lining the streets. It also appears to be growing with construction sites encountered in the eastern areas complete with the frameworks of new housing. The northern section of East Vinewood is slightly rundown judging from some abandoned businesses and buildings and a small gang presence.
Influence
The neighborhood's name is based on East Hollywood and is based on the areas of Thousand Oaks in Ventura County, Echo Park and Silver Lake in Los Angeles, California.
Places of Interest
Businesses
Roads and Streets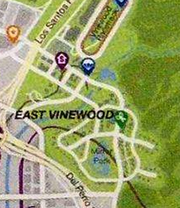 Notable Residents
Events in GTA Online
Collectibles
Gallery