Raise a Floppa - The Loop
Play Sound
"
Old industrial neighborhood under heavy development as yuppies and businessmen move in as fast as they can.
"
—
GTA San Andreas
Website
Doherty is a district of San Fierro, San Andreas, appearing in Grand Theft Auto: San Andreas.
Description
It is an industrial area located in the southeastern portion of the city, being renovated due to the devastating earthquake of 1988 which leveled several blocks and destroyed properties in the area. While most of the district has been reconstructed, a large plot of land - where the protagonist's garage is also located - still serves as a grim reminder of that fateful day. To the north is King's, to the west is Garcia, to the south is Foster Valley, and to the east are Easter Basin and Easter Bay Airport.
Doherty is modelled after the Dogpatch district of San Francisco. Like Doherty, Dogpatch has been experiencing a renewal; with new construction projects, a burgeoning arts scene, and other signs of gentrification.
Doherty is also home to members of the San Fierro Rifa, who will occasionally accost Carl and question his gangster status, with a positive response guaranteeing a physical confrontation. San Fierro Rifa gangsters are often found along the street between the Doherty Garage and the Brown Streak Railroad-served Cranberry Station.
Events of Grand Theft Auto: San Andreas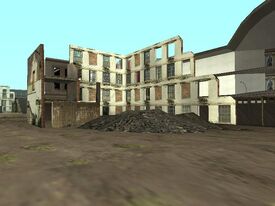 Doherty is the first stop for Carl Johnson after entering San Fierro, as he heads to the garage he won in a race against Claude and Catalina which turns out to be an abandoned Xoomer petrol station. Kendl persuades Carl to think positively over feeling cheated by suggesting to transform the defunct garage into a new business. Carl then befriends and employs Dwaine, Jethro, and Zero who, along with Cesar Vialpando, begin to operate the garage, turning it into a successful chop shop.
Construction workers of the site beside the garage begin sexually harassing Kendl and calling her names. This infuriates Carl and Cesar, leading the former to storm the site and wreak havoc, killing numerous workers and the foreman.
Carl later destroys a large structure in Doherty that was being used by the Loco Syndicate as a drug factory. He also purchases a safehouse just south of his new garage, and later purchases Wang Cars, a car dealership located on the borders of Doherty, King's, and Downtown. The dealership's success is achieved through numerous car thefts by Carl and Cesar.
Residents
Homes
Places of Interest
Weapons
Stationary vehicles
Other