Roblox: DeepWoken - The Loop
Play Sound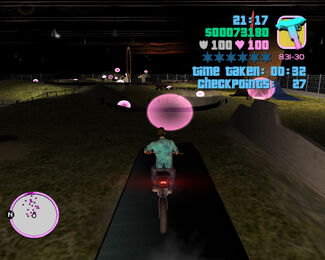 Dirtring is a checkpoint side-mission in Grand Theft Auto: Vice City, one of the three events that takes place at Hyman Memorial Stadium.
Description
The premise of Dirtring is for the player to reach a total of 32 checkpoints scattered around an arena-sized area containing ramps, wrecks, walls, and a dirt track using a Sanchez dirt bike; many of the checkpoints are located at places typically hard to reach using a motorbike, requiring the player perform stunts (loop-the-loops and jumps over wrecks or rings of fire) or ride along thin ledges or planks to reach a checkpoint in an elevated position.
Because there is no time limit (although the player's run is timed), the player may choose to complete the side-mission at their own pace; completion of the side-mission at any time is essential for 100% completion. If the player is dismounted from their bike, they have 30 seconds to return to it before the side-mission is failed; the player may also walk to a halo in the middle of the course to end the side-quest.
Gallery
Reward
All checkpoints reached within 5 minutes: $50,000
All checkpoints reached within 10 minutes: $10,000
All checkpoints reached after 10+ minutes: $5,000
Video Walkthrough
See Also