Wikipedia
The Dildo is a melee weapon and gift in Grand Theft Auto: San Andreas.
It also appears as a prop, mostly serving for gag purposes, in Grand Theft Auto: Liberty City Stories, Grand Theft Auto: Vice City Stories,  Grand Theft Auto IV, Grand Theft Auto: Chinatown Wars and Grand Theft Auto V.
A similar "weapon", the vibrator, also appears in GTA San Andreas and other games.
Description
Unsurprisingly, the effectiveness of using the dildo as a weapon in GTA San Andreas is low, given the inflicted damage is extremely limited and therefore being about as useful in combat as the fists. Carl Johnson can also give the dildo as a gift to his various girlfriends in the game. Unusable dildos can also be found in sex shops, one humorously built into a chainsaw.
In GTA Liberty City Stories JD O'Toole's gravestone has a dildo beside it after being killed in the mission The Made Man.
In GTA Vice City Stories one of Domestobot's arms is a dildo.
In Grand Theft Auto IV distinctive purple dildos can be found in many piles of rubble in abandoned locations around Liberty City, such as the Sprunk factory and the Alderney Casino. Flesh colored dildos can be found in the Hove Beach sex shop, although they only serve as projectiles that can be picked up and thrown. Dildos are also found in GTA Chinatown Wars in green dumpsters, though they do nothing.
In Grand Theft Auto V, dildos can be found in Floyd's Apartment in Debra's room after Trevor Philips takes up residence.
Locations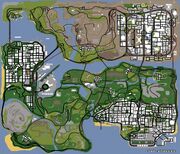 Gallery
Trivia
The player may acquire a purple dildo in the second part of the mission Key to Her Heart when the player has killed Benny, Millie's gimp, who is holding one.
The Angels of Death sell dildos on their website, although the player cannot purchase them.
Community content is available under
CC-BY-SA
unless otherwise noted.