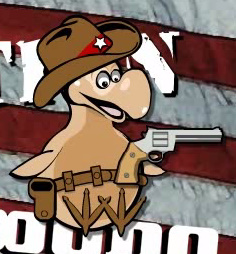 Derek the Dodo is a fictional dodo used by Ammu-Nation for advertising in the early 1980s. Derek is used to entice children into using guns at Saturday Safety Fun and to shift blame to 'anti-gun zealots'. A likely reason for using the dodo as a mascot is that the bird is extinct, which pokes fun at firearms and hunting.
Trivia
In GTA IV, on WKTT's The Richard Bastion Show, the host mentions that people should look up to and can learn a lot from mascots such as Derek the Dodo. This proves that Derek the Dodo is still Ammu-Nation's mascot in 2008.
Derek the Dodo is a parody of Eddie Eagle, an NRA mascot that teaches kids about gun safety.
Community content is available under
CC-BY-SA
unless otherwise noted.