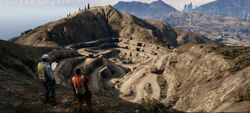 Davis Quartz is a terraced mining site located on Senora Way, southeast of the Grand Senora Desert in Grand Theft Auto V. It can easily be identified by looking to the east of Sandy Shores and the Grand Senora Desert. The quarry is very quiet and idle, as nothing much happens here. Merryweather Dilettantes patrol a small portion of the area, but will ignore the player if they come into the site.
Influence
Davis Quartz may have been influenced by the Mountain Pass rare earth mine, located in San Bernardino County California, which is close to Los Angeles.
Vehicles
NOTE: Not all vehicles will spawn here at once, it may take several trips to encounter some vehicles.
Mission Appearances
GTA V
GTA Online
Heists
Gallery
Trivia
See Also
Community content is available under
CC-BY-SA
unless otherwise noted.