Davis is an incorporated city in southern Los Santos County, San Andreas in Grand Theft Auto V. The city is bordered to the north by the Los Santos neighbourhood of Strawberry, to the east by Rancho, to the west by Chamberlain Hills, and to the south by Banning. 
Character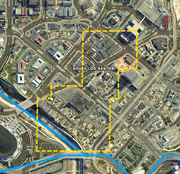 Davis is a poverty-ridden city with a high crime rate and significant gang violence between the The Families and Ballas, similar to its bordering neighbourhoods in the city of Los Santos. Roads such as Grove Street are heavily patrolled by gangsters, so newcomers must choose their clothing colors wisely. Davis is the only incorporated city in Los Santos County besides Los Santos itself; the city has its own courthouse and fire station, which is a branch of the Los Santos Fire Department. The city is served by the Los Santos County Sheriff.
South and southwest Davis is primarily residential and heavily populated by small, single-family homes, often with bars installed on the windows and doors to prevent burglaries. However, the busy roads of Carson Avenue and Davis Avenue, located further to the northeast of Davis, are more commercial and contain many smaller businesses and stores. The population is mostly African-American.
The radio station West Coast Classics broadcasts live from the Davis area.
Events of GTA V
Davis is one of the main settings in the Hood Safari mission where Franklin, Lamar and Trevor fight waves of Ballas on Grove Street. Additionally, the car impound lot used in for Tonya's towing missions is located next to the Sheriff's Department.
Influence
Davis is heavily based on the city of Compton, California with the element of several popular South Central Los Angeles' neighborhoods (Most likely Crenshaw) .
Gang control
The entire city of Davis is heavily controlled by Ballas, with the occasional presence of The Families on Carson Avenue near the Davis-Strawberry border, and Grove Street on the Davis-Chamberlain Hills border. If the player goes into the blocks near Grove Street, Brouge Avenue, and Covenant Avenue, they will be shot at by Ballas. In the northern part from Carson Avenue there is less gang control, but still a presence of Ballas.
Transport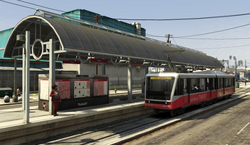 The Los Santos Transit has a stop station at Carson Avenue between Brouge and Davis Avenue.
Notable Residents
Roads and Streets
Places of Interest
Businesses
Collectibles
Gallery
Trivia
See Also