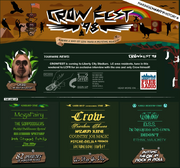 Crowfest '98 is a benefit concert held in Liberty City Stadium in 1998, during the events of Grand Theft Auto: Liberty City Stories. It is sponsored by the Liberty Tree, a radio ad for the concert can be heard on Flashback FM, and cannot be watched by the player. Its taglines are "More a way of life than a festival really" and "Making charity history", a play on Live Aid's "Make poverty history". The concert is also promoted on Liberty City Free Radio during the "Breathing World" segment.
Description
The concert features English musician Crow and a few other acts, the names of which are references to real-life bands and performers. It is held in three stages: the Woodland Stage, the Lazer Boyz Stage and the World Orchestra Stage. A complete lineup is listed below.
Woodland Stage
Lazer Boyz Stage
World Orchestra Stage
Radio Ad
Male announcer: One man...
Crow: Are you wankers ready to rock and roll?
Male announcer: Eighty ethnically diverse backup singers...
Crow: I brought an entire indigenous tribe with me today!
Male announcer: A blinding laser light show! Coming to Liberty City Memorial Stadium, it's an 82 minute celebration of America from Britain - Crow!
Crow: Are you ready for some Crow, Liberty City?
Male announcer: It's Crowfest '98. You'll hear songs such as "Cloud in Kenya", "Rainforest Night Blues", "Moon Over the Manatee" and "Tantric Boogie". Crowfest!
Crow: Off with the undies ladies, Crow's in town!
Male announcer: Love will give you legs, and give your wallet wings! Featuring the only live on-stage performance of a whale song duet!
Crow: And this next show I'm gonna do here is with my penis code.
Male announcer: All proceeds go to the Crow Foundation, dedicated to profiting from indigenous music. Tickets are on sale now.
Trivia
External Links
Community content is available under
CC-BY-SA
unless otherwise noted.