Roblox: DeepWoken - The Loop
Play Sound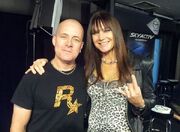 "Couzin" Ed Andrews (born 1968 in Washington, D.C.) is a former radio personality. Claiming to take his nickname from Iron Maiden's mascot Eddie The Head, Couzin Ed now works for Rockstar Games NYC as their Event Host & Coordinator directing voice talent and radio promotions alongside Lazlow. He portrays himself as a DJ of V-Rock in Grand Theft Auto: Vice City Stories and a caller in Grand Theft Auto: Vice City.
In-game
3D Universe
Until 1984
Couzin Ed was a rebellious young person. His stories recall him playing drums to Def Leppard songs during schooltime, smoking marijuana and amassing a vast knowledge of rock music. He has applied for work at V-Rock in Reddick, Florida by sending a CV written on rolling papers and got the job shortly after. Even while working on the radio, Couzin Ed continued to mantain his rebellious attitude by rolling the song playlist given to him in a marijuana joint.
1984
In Grand Theft Auto: Vice City Stories, Couzin Ed embodies the general stereotypes of a "metalhead": over-the-top mascuilinity, a (put-on) gravelly voice, a "reckless" lifestyle including a drinking problem and orgies, and a great passion for heavy metal. He is the main DJ of V-Rock, constantly making fun of Lazlow by questioning his sexuality, mocking his high-pitched voice and verbally assaulting him for not agreeing with ultraconservative political views. Despite this, Ed gets heckled by a phone caller who hasn't recieved the money that he planned to give away, much to Lazlow's amusement.
At one point, Ed did tricks with a Butterfly Knife, which he calls "the pinnacle of reckless living", and lost a pinkie in the process.
1986
In Grand Theft Auto: Vice City, Couzin Ed has been kicked off the station in the favor of Lazlow, who recently got his broadcasting degree and had agreed to work for lesser pay. Since then, he got married (but began attending marriage counselling shortly after), started to work as a bus driver, and let go of his "metalhead" personality. What happens to Couzin Ed after the events of the game is unknown.
HD Universe
2013
Couzin Ed is one of the honored celebrities on the Vinewood Walk of Fame.
Quotes
"
I am a radio masterpiece! You could not do this job ever, Lazlow! Let's load up, let's party!
"
— Couzin Ed explaining why Lazlow can't be the DJ of V-Rock
"
Knives are cool, rock is cool, Couzin Ed is cool, Lazlow sucks, I love sluts!
"
— Couzin Ed's "cool" poetry
"
Couzin Ed, comin' atcha live, the bitch is back, we're giving it away, I can't even say it! We're setting world records, get ready: $50 in cold, hard cash! V-Rock, makin' you rich, not itch! Just call and tell me why you rock the most.
"
— Couzin Ed announcing a money giveaway
"
I've got a six-shooter on each hip and a twelve-shooter between my legs! God, I love my country right now!
"
— Couzin Ed describing himself
"
Ed, maybe remember me? Now I'm out driving a bus, standing on appointment lines and arguing with my wife because I don't make enough money.
"
— Couzin Ed describing his life in 1986
"
I don't even use the playlists! You probably have a playlist. I rolled mine into a big fatty and smoked it!
"
— Couzin Ed describing how he used to host V-Rock
Trivia
In Grand Theft Auto: Vice City Stories, Couzin Ed hints multiple times that his favorite band is Judas Priest.
Gallery