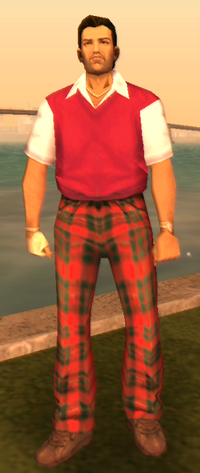 The Country Club Outfit is one of the 12 unlockable outfits outfits in Grand Theft Auto: Vice City.
Description
It is unlocked after the completion of the mission Four Iron. It is basically a golfing outfit, consisting of a red golfer's jumper shirt with a pink shirt underneath it, a white golfing glove, red and green plaid pants and brown golfing shoes. It spawns in front of the Leaf Links Country Club after the completion of Four Iron, despite the player obtaining it from Jocksport. Changing into the outfit will remove up to a two star wanted level, even if the player is already wearing the outfit.
Trivia
Although donning the Country Club Outfit (like all the outfits in the game) costs no actual money, a total of '$40' is added to the "Fashion Budget" section of the game's "Stats" menu every time player changes into it (even if the outfit is already being worn). This does not apply to the first time the player puts on the outfit during the mission Four Iron.