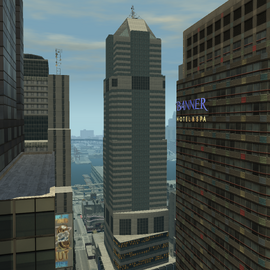 The Cooper Jackson Building is a skyscraper appearing in Grand Theft Auto IV and Grand Theft Auto: Chinatown Wars, located in Star Junction, Algonquin.
Description
The building is located on the corner of Denver-Exeter Avenue and Lorimar Street within the heart of Star Junction. It is recognizable by its tapered roof and, at night, its bright blue base, lighting up the Star Junction nightlife.
It features a large base floor with several branches such as Rimmers and Eau-De-Mania. On the corner of the building is a large cylindrical blue display with "Cooper Jackson" branding.
It appears as a 40+ story high skyscraper, presumably serving as an office building, and appears to be connected with Cooper Jackson. It is located north of the MeTV Building and south of The Star Plaza Hotel.
The building is based on the Morgan Stanley Building in the Times Square district of Manhattan, New York City.
A clone of this building appears further north on the fringe of Middle Park and Star Junction. It is much shorter in design and lacks the iconic base and tapered rooftop, but has an identical window stripe design and black segments within the top floors.
The building is known as "morgan01" in the game files, likely referencing the Morgan Stanley Building, the building's real-life counterpart.[1]
Gallery
See Also
References
↑ manhat09.img: ts_morgan01_dc9.wdr
Community content is available under
CC-BY-SA
unless otherwise noted.