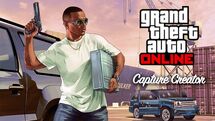 The Content Creator is a feature in Grand Theft Auto Online. A beta version was released for GTA Online players on December 10, 2013.
The Content Creator will continually be updated over time. A new addition to the Content Creator, known as the Capture Creator, was released in the 1.12 update.
Description
The Content Creator allows players to make their own custom maps in game modes such as Race, Deathmatches, and Capture. These custom maps can be made anywhere in San Andreas, except for the city airport and the military base.
In the Content Creator, players are able to place down props, objects, barriers, vehicles, or even NPCs (only in the Capture Creator). For races, the players must place barriers to create the track. While in Content Creator, players can switch to test mode, which allows them to switch to their characters and test their own map. During testing, there are no wanted levels. It is required for at least two minutes of testing before a Job can be published.
Upon completing the creation of a Job, the player may publish it to the Rockstar Games Social Club. Some have been Rockstar verified, appearing on the Job selection screen for every player.
Rockstar Games also hints that there is the possibility of creating missions as well as heists in the future. Some may possibly be verified.
List of Verified Jobs
Trivia
The feature was first introduced in Midnight Club 3: DUB Edition, another Rockstar game.
When creating a race at the gameplay point of view (such as putting down checkpoints), the vehicle is indestructible.
In Gameplay view, you can enter the small areas behind the doors of Apartments and Garages, however, in the actual Job, it cannot be accessed.
Also in Gameplay view, jumping into a solid object will make the player ragdoll like in GTA V, although this is impossible in Online.
In Race Creator, players are unable to add the starting grid or checkpoints in certain areas such as Los Santos International Airport and Fort Zancudo, as they count as restricted areas.
Also in Gameplay view, the player is invincible from high falls.
On April 21, 2014 the Content Creator was taken down to avoid a massive money glitch.
Gallery
Community content is available under
CC-BY-SA
unless otherwise noted.