Fire Emblem Warriors: Three Hopes - The Loop
Play Sound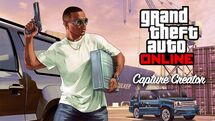 The Content Creator is a feature in Grand Theft Auto Online. A beta version was released for GTA Online players on December 10th, 2013.
The Content Creator is continually updated over time.
The Capture Creator was released in the 1.12 update.
The Last Team Standing Creator was added in the 1.17 update.
The following are only available in the enhanced version:
Description
The Content Creator allows players to make their own custom maps in game modes such as Races, Deathmatches, Captures and Last Team Standings. These custom maps can be made anywhere in San Andreas.
In the Content Creator, players are able to place down props, objects, barriers, vehicles, or even NPCs (only in the Capture Creator). For races, the players may place barriers to help create the track. While in Content Creator, players can switch to test mode, which allows them to switch to their characters and test their own map. During testing, there are no wanted levels. It is a requirement that at least two minutes of testing (or one lap of driving) be completed before a job can be published.
Upon completing the creation of a Job, the player may publish it to the Rockstar Games Social Club. Some have been Rockstar verified, appearing on the Job selection screen for every player.
Along with the release of the enhanced versions of GTA V and GTA Online, the player can now place new objects in the Capture, Deathmatch or LTS Creators, such as fortresses, new fences, signs, large stadium seats and large floaters. In Race Creators, the player can place start/finish gantries, new cones, tire stacks and barriers. New trailers, tankers and a wider variety of vehicles have also been added.
The release of the Stunt Race Creator allows the player to add a very large variety of stunt-race props, including starting lines, ramps, raised pieces of track, loops, tubes, as well as special props, like rings of fire, sounds, speed boosts, stoppers and landing targets/pads. Because of the vast array of parts, the player also has the ability to rotate these props through yaw, roll or pitch, and enable snapping, which automatically connects the selected piece to the nearest piece. The Stunt Race props can be accessed by selecting "Stunt Race" as the race type when first entering the race creator menu.
On November 28th, 2017, the Transform Race Creator was released and new props were added.
The Target Assault Race Creator was released on June 5th, 2018, with various new props being also added to it. The Transform Race Creator was also updated, making possible the creation of Transform Races with the Deluxo, Stromberg and the Thruster.
List of Verified Jobs
Deathmatch
Capture
Race
Last Team Standing
Release Dates
Jobs have been verified in batches (usually 10 per month) and released to the Social Club and published in game on the following dates:
December 27th, 2013 (10 jobs)
January 22nd, 2014 (10 jobs 1st Creator Weekend creator competiton winners and 5 additional jobs)
February 5th, 2014 (10 jobs)
February 26th, 2014 (10 jobs)
March 14th, 2014 (10 jobs)
April 17th, 2014 (10 jobs Highlighting less-commonly used areas of the map)
April 29th, 2014 (4 Capture jobs, after the Capture Weekend creator competition winners)
May 8th, 2014  (10 jobs)
May 30th, 2014  (10 jobs)
June 25th, 2014 (10 jobs)
July 16th, 2014  (10 jobs 5 Im Not A Hipster creator competition winners and 5 additional jobs)
August 26th, 2014  (10 jobs)
October 15th, 2014 (10 Air races after the Flight School Event weekend, creator competition winners and runners-up)
February 3rd, 2015 (10 jobs, 5 of the first batch of LTS creations, and 5 other jobs)
May 14th, 2015 (13 jobs, 10 for all platforms, 3 enhanced version-exclusive)
Rockstar Recommended Jobs
Periodically, Rockstar have published lists of jobs they have highlighted, usually on a particular theme, that players can elect to add to their games individually. They are console platform specific (unlike the Verified jobs which are replicated from whichever platform the author used to the competing console).
March 20th, 2014 (3 jobs: The Warriors-inspired jobs emulating scenes from that movie to celebrate its 35th anniversary of release)
May 21st, 2014 (10 jobs: Rockstar throwback jobs)
July 22nd, 2014 (9 jobs: Classic GTA mission-inspired throwback jobs)
September 8th, 2014 (8 jobs: Red Dead Redemption-inspired throwback jobs)
October 22nd, 2014 (10 jobs: Grand Theft Auto:San Andreas-inspired throwback jobs to celebrate its 10th anniversary of release)
Trivia
Prior to the Ill-Gotten Gains Part 2 Update, maps were unable to be created in either Los Santos International Airport or Fort Zancudo Military Base.
The feature was first introduced in Midnight Club 3: DUB Edition, another Rockstar game.
When creating a race at the gameplay point of view (such as putting down checkpoints), the vehicle is indestructible.

Submerging the creator vehicle in water will switch the player to the overhead creator camera.

In gameplay view, you can enter the small areas behind the doors of apartments and garages, however, in the actual Job, it cannot be accessed.
Also in gameplay view, jumping into a solid object will make the player ragdoll like in GTA V, although this is impossible in GTA Online.
In Race, LTS, Deathmatch and Capture creator, players are unable to add the starting grid or checkpoints (or spawn points) in certain areas such as Los Santos International Airport and Fort Zancudo, as they count as restricted areas. Surprisingly though, the player may place checkpoints in the Bolingbroke Penitentiary State Prison.
Also in gameplay view, the player is invincible from high falls.
On April 21, 2014 the Content Creator was taken down to avoid a massive money glitch.
Players could spawn a Skylift via a glitch. However, after the 1.12 patch, the Skylift has been replaced by the Jetsam Cargobob.
Many rare or unobtainable vehicles can be accessed in the Creator that are not seen in free mode of GTA Online (i.e. Dock Handler, Trashmaster, Clown Van, Lawn Mower, etc.)
As of 1.17 players are no longer able to place actors, objects and cases inside buildings, I.E. the Pacific Standard Public Deposit Bank in north Vinewood.
Originally, players were able to create GTA Races using the Stunt Race Creator. However, this option was omitted after the release of the Bikers update.
Gallery