Raise a Floppa - The Loop
Play Sound
"
Are you a VIP in need of tasteful yet robust transport? Aspiring crimelord with an eye for flexible seating and storage space? Survivalist with thinly veiled paramilitary intentions? However deranged your aspirations, the Vapid Contender has got you covered.
"
—
Southern San Andreas Super Autos
description.
The Vapid Contender is a sport utility truck (SUT) featured in Grand Theft Auto IV and returning in Grand Theft Auto Online as part of the Cunning Stunts update, released on July 26th, 2016, during the Cunning Stunts Bonuses II event.
Design
Grand Theft Auto IV
— Billboard advertisement.
Designed as a two-door vehicle, the Contender has styling very reminiscent of the 2005 Ford SVT Lightning Concept, most noticeably in the wheel arches, front bumper, grille shape and hood, while the bed and overall effect are reminiscent of the Ford Explorer Sport Trac. It has a Chevy-like, horizontally-split grille and headlights that are similar to the 2007 Chevrolet Avalanche. The Supercharged 5.7L V8 engine, is also similar to the Lightning concept but with a larger displacement V8 (the Lightning had a 5.4L V8).
The Contender is depicted as a pick-up truck with a somewhat sporty appearance, where the front bumper has rectangular mesh intakes, with the central one being almost twice the height compared to the side ones. A split grille can be seen on the upper area, along with black housings containing the circular lamps. The hood sports two thin ducts leading to the engine. The sides assume a bulky appearance on the lower sides and the wheel arches, with a separation between the cab and the truck bed. The cabin makes use of black trim around the windows, black rectangle mirror wings and tinted rear windows. The rear of the car assumes a more simplistic appearance, featuring red and amber lights on the outer edges, as well as a tailgate and two open slots at the bottom.
The Contender can spawn with several accessories:
A front bullbar.
Either a roll-cage bar with roof spotlights, a wide roll-cage frame or a wide roll-cage with black tubular barr attached to the back of the cab.
Either a black soft bed cover or a plain body-colored cover.
Contenders only spawn in single colors, with the bottom portions and the grille surroundings always finished in silver.
Grand Theft Auto Online
The Contender assumes the design of a lifted four-door pick-up truck resembling the Second Generation Toyota Tundra Devolro Diablo, seen particularly in the frontal fascia and bullbar, the rear bed cap and rack, and the rear arches. It also takes some design cues from the Ford Raptor and 2010 4-door lifted Ford F-150. its cab design greatly resembles the 4th Generation Dodge Ram, primarily in the design of its doors.
The Contender is distinctive by the heavy-duty front bumper, fitted with a winch, brushguard and three fog lamps. The grille has a bolted-on surrounding and three horizontal separations, while the edges feature circular headlights with LED strips below and turn signals on the edges. The sides are characterized by the bolted-on arch extensions on the fenders, as well as the black stepsides and door handles. The cabin features black window trim, rear-view mirrors and roof marker lights. The roof itself features thin ridged details, while a third brake light is seen on the rear side. The rear end features large tail lights on the edges and a large tailgate on the center, along with a small bumper fitted with a license plate. The underside features large shock absorbers along with springs, and four kicker braces/impact struts running from each axle. As well as the two main axle diffs, the propshafts also run to two more central locking diffs. The front underside also sports a sump guard protecting the engine directly above it. The vehicle shares its interior with the majority of the SUVs, including its predecessor, the Sandking XL.
The Contender may spawn with a large bedcap with a roof-rack on top, although one can change it in Los Santos Customs. The vehicle is only available in a single color, and is set to black in instances where natural spawning occur (i.e. missions or Content Creator). Its stock wheels share the same rim design as those found on the Baller LE and its Long Wheel Base variant. The rims themselves can be repainted through Content Creator, although the permanent black finish gives it a darker tint/shade.
Current Design Gallery
Performance
Grand Theft Auto IV
Despite having an apparent 5.7 liter supercharged V8 engine, the Contender only develops low amounts of power and therefore speeds are not too high, and can be equally matched by the Bobcat but the top speed is higher. On the bright side though, the Contender is impressively durable with collisions and gunfire. Handling is below average with the truck feeling heavy, and understeering around corners. Despite it being a pickup, it is not good off road, since the truck is only rear wheel drive, and the suspension is firm and does not have enough ground clearance.
The vehicle shares the engine sound from the Cavalcade and its FXT variant.
GTA IV Overview



Vehicle Statistics - Grand Theft Auto IV

Acceleration
(0-60 mph in Seconds)
Top Speed
(mph / kmh)
Gears
Engines
Drivetrain
(FWD / RWD / AWD)
Mass
(kg / lbs)

Handling.dat

N/A
84 / 135
5
N/A
RWD
2500 / 5512

Website Statements / Badges

N/A
N/A
N/A
5.7L Supercharged V8 (Badging)
N/A
N/A

Observed

N/A
N/A
5

FR

V8 (Cover)
RWD
Cannot be observed
Grand Theft Auto Online
The truck has reasonable performance thanks to a powerful V8 engine powering all four wheels, giving it immediate acceleration and little loss of traction in a straight line, as well as great off-roading capabilities. However, it has a large oversteer when approaching corners too fast, resulting in a spin-out at high speeds. Along with being a heavy and durable vehicle, this vehicle has bullet resistant windows, strong axle, and sturdy frame.
The vehicle sports a 5.4L single-cam V8 engine laid longitudinally in a front-engine, all wheel drive (4x4) configuration. It is coupled to a 5-speed gearbox. It shares the same engine sound as most SUVs and pickup trucks, such as the Granger and the Bodhi.
GTA Online Overview



Vehicle Statistics - Grand Theft Auto Online

Acceleration
(0-60 mph in Seconds)
Top Speed
(mph / kmh)
Gears
Engine
Drivetrain
(FWD / RWD / AWD)
Mass
(kg / lbs)
Fuel Tank
Size (litres)

Handling.meta

[?]

N/A
84 / 135
5
N/A
AWD
50% FWD
50% RWD
2750 / 6063
70

Website Statements

[?]

/ Badges

N/A
N/A
N/A
5.4L V8 (Badging)
4x4 (AWD) (Badging)
N/A
N/A

Observed

N/A
N/A
5

F4

SOHC

V8 (In-game model)
AWD
Cannot be observed
Cannot be observed

Rockstar Games Social Club

Speed
Acceleration
Braking
Traction
Modifications
Grand Theft Auto Online
Category
Modification
Cost
Image
Armor
No Armor
$500
Armor Upgrade 20%
$5,250
Armor Upgrade 40%
$8,750
Armor Upgrade 60%
$14,000
Armor Upgrade 80%
$24,500
Armor Upgrade 100%
$35,000
Brakes
Stock Brakes
$500
Street Brakes
$10,000
Sport Brakes
$13,500
Race Brakes
$17,500
Engine
EMS Upgrade, Level 1
$4,500
EMS Upgrade, Level 2
$6,250
EMS Upgrade, Level 3
$9,000
EMS Upgrade, Level 4
$16,750
Explosives
Ignition Bomb
$5,000
Remote Bomb
$7,500
Horns
Main article: Los Santos Customs/Horns
-
Lights
Headlights
Stock Lights
$400
Xenon Lights
$5,000
Neon Kits
Main article: Los Santos Customs/Lights
-
Loss/Theft Prevention
Tracker
Too Hot
Full Coverage
Too Hot
Plates
Blue on White 1
$200
Blue on White 2
$200
Blue on White 3
$200
Yellow on Blue
$300
Yellow on Black
$600
Respray
Main article: Los Santos Customs/Respray Colors
-
Roofs
Stock Roof
$200
No Roof
$700
Sell
Sell Vehicle
Too Hot
Suspension
Stock Suspension
$200
Lowered Suspension
$1,000
Street Suspension
$2,000
Sport Suspension
$3,400
Competition Suspension
$4,400
Transmission
Stock Transmission
$500
Street Transmission
$14,750
Sports Transmission
$16,250
Race Transmission
$20,000
Turbo
None
$2,500
Turbo Tuning
$35,000
Wheels
Main article: Los Santos Customs/Wheels
-
Windows
None
$500
Light Smoke
$1,500
Dark Smoke
$3,500
Limo
$5,000
Image Gallery
Grand Theft Auto IV
Grand Theft Auto Online
Variants
Utility Truck in Grand Theft Auto V.
(Rear quarter view)
Description
The Utility Truck in Grand Theft Auto V shares the cab design with the GTA IV Contender. It is converted into a pickup utility van with room for wheelbarrows, brushes and buckets. It features a white paintjob.
Special Variants
Grand Theft Auto IV
A special green colored Contender driven by the Irish Mob can be found in Steinway. It has huge chrome brush guards and comes with an exclusive bed modification, sporting a soft tonneau cover and chrome roll bars with body color fog lights mounted on top. Its speed and acceleration have increased a very small amount from the supercharger being added. This Contender can be resprayed into any regular color.
A Contender is also requested as part of Stevie's Car Thefts, appearing with a dark grey paintjob. As a new Contender will respawn at the same spot until the player delivers one to S&M Auto Sales, the player can save one at their safehouse before delivering another. The maximum amount of money you can obtain from delivering the Contender to Stevie is $8,250.
A special Contender cab be seen in the mission Smackdown, being driven by Bucky Sligo. It sports a tonneau cover and a unique dark green-to-black color-shift paintjob. This vehicle can be stored at the player's safehouse. The color cannot be obtained from a Pay 'n' Spray.
Prominent Appearances in Missions
Grand Theft Auto IV
Smackdown - As mentioned above, Bucky Sligo drives a Contender, which attempts to run away from Niko Bellic, which was in a Police Car.
Stevie's Car Thefts - The Contender is one of the 30 vehicles wanted by the Stevie's Car Thefts in the side-mission of the same name.
Grand Theft Auto Online
Two-to-four Matte black Contenders may spawn at the Fridgit factory, Palmer-Taylor Power Station, or Elysian Island during the VIP mission Plowed, only if the player is required to go there.
A matte black Contender is used during the Gunrunning biker MC contract, located at the jetty near Los Santos International Airport. Once delivered, it is inaccessible to players.
Matte black Contenders spawn during a gang raid, only available via biker business resupply run, however these will be inaccessible to players shortly after the supplies are delivered, even if the vehicles themselves are not used for transport.
Merryweather Security attackers will drive matte black Contenders shortly after a convoy has been ambushed for bunker Resupplies located in an Insurgent.
Used by attacking enemies in the Quarry Survival.
Notable Owners
Grand Theft Auto IV
Bucky Sligo owns a slightly modified, special-colored Contender.
Locations
Grand Theft Auto IV
Grand Theft Auto Online
Rewards
Grand Theft Auto IV
After collecting all thirty cars for Stevie he agrees to purchase cars from Niko Bellic, with the Contender fetching $2,500.
Trivia
General
The default radio stations for the Contender are:
Grand Theft Auto IV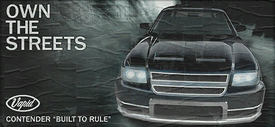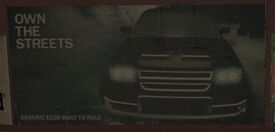 Grand Theft Auto Online
See Also
Sandking XL and Sandking SWB - 4 and 2-door trucks similar to the second generation Contender, featured in GTA V.
Utility Van - A truck in GTA V that uses the same design of the previous generation Contender seen in GTA IV.