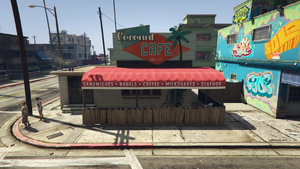 The Coconut Café is an inacessible small restaurant and café in Grand Theft Auto V and Grand Theft Auto Online located on Bay City Avenue and Goma Street, La Puerta in Los Santos. The business sells sandwiches, bagels, coffee, milkshakes, and seafood. According to the logo, it was established in 1967.
Description
The Coconut Café provides customers with three tables, each with two chairs. The entrance to the restaurant and café is lined with plants on either side. Behind the business are two Household Order Bin Operations dumpsters and various cardboard boxes and rubbish-filled plastic bags. Staff entrance is located on the right-hand side of the building.
Community content is available under
CC-BY-SA
unless otherwise noted.