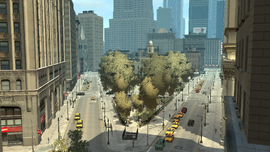 The City Hall Park is an unnamed park in Grand Theft Auto IV and Grand Theft Auto: Chinatown Wars located in City Hall, Algonquin.
Description
The park is a two-block triangular-shaped park bordered by Liberty Lane to the west, Emerald Street to the north, Denver Avenue to the east and Calcium Street to the south, serving as a center point for the City Hall neighborhood of Algonquin. It is divided in two by Diamond Street, essentially dividing the Civic Citadel from the rest of the park, although both sections are similar in design and are presumed to be part of each other.
City Hall Park consists of a large water fountain with park benches around it, trees, flowers and iron fencing with concrete pillars around the outskirts. The City Hall LTA subway entrance is found south of the park.
In the northern half, the park continues, with the path from the southern half leading across Diamond Street and into the northern compound, leading up to the Civic Citadel, a large government building taking up the majority of the block. A hamburger vendor can be found in the southern half of the park.
Rimmers and Ranch stores are found at the bottom of 233 Liberty Lane, one of several large skyscrapers surrounding the park. Along the same road are 253 Liberty Lane and 258 Liberty Lane, two other large buildings. The Algonquin Municipal Building is also found to the east of the park.
The park's location in the center of the City Hall region, based on the Civic Center area of Manhattan, New York City, suggests the park is based on the City Hall Park, coincidentally sharing the same name (and likely where City Hall itself got its name from). Its prevalence near the Rotterdam Tower is similar to the location of Greenly Square Park in the Broadway district of Manhattan, in a similar fashion, nearby to the Empire State Building.
Gallery