Christov Mahonvic (Russian: Христов Махонвич) is a Russian criminal in Liberty City in Grand Theft Auto IV.
Description
He is wanted by the LCPD for grand theft auto. He can be killed by Niko Bellic. When encountered, he is with five associates inside the Liberty Sanitation Depot in Fishmarket South.
LCPD Database Record
LIBERTY CITY POLICE DEPT.
PROTECTING LIBERTY CITY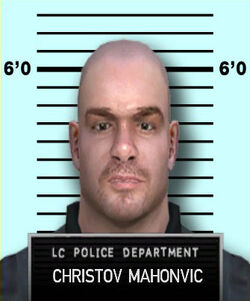 NAME
CHRISTOV MAHONVIC
HANGOUT
Fishmarket South, Algonquin
WANTED FOR
Grand Theft Auto
Gallery