Arcane: League of Legends - The Loop
Play Sound
| | | |
| --- | --- | --- |
| | This article has just been born! It is currently Under Construction. The following content may be incomplete and/or not verified. | |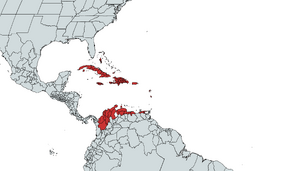 The Caribbean is a region of the Americas that comprises the Caribbean Sea, its surrounding coasts, and its islands (some of which lie within the Caribbean Sea and some of which lie on the edge of the Caribbean Sea where it borders the North Atlantic Ocean). The region lies southeast of the Gulf of Mexico and the North American mainland, east of Central America, and north of South America.
In the Grand Theft Auto series, the Caribbean is often referenced. The Caribbean region of Colombia makes an appearance in Grand Theft Auto Online as part of The Cayo Perico Heist update.
3D Universe
In the mission In The Beginning..., at the start of Grand Theft Auto: Vice City, a news broadcast mentions that Hurricane Hermione has already devastated five Caribbean islands and is crossing the Caribbean Sea, heading towards Vice City. This causes the bridges to be closed for the early portion of the game.
In Grand Theft Auto: San Andreas, the Epsilon Program website contains a page about the Epsilon Tract; however, the site states that the tract has not yet been written. There is an address in Grand Canaria to send a cheque to. Grand Canaria is located in the Cayman Islands (located in the British overseas territory of the Caribbean), which is well known as a tax haven and offshore location for many dubious companies. Grand Canaria is a fictional place based on Grand Cayman, and named after the Gran Canary Spanish island.
In Grand Theft Auto: Liberty City Stories, after killing Kazuki Kasen, Toni Cipriani suggests Toshiko Kasen move to Costa Rica or Aruba, to which she declines.
As of September 2001, one month before the events of Grand Theft Auto III, Donald Love is living on a yacht in the Caribbean. [1]
HD Universe
In Grand Theft Auto IV, after Niko Bellic and Little Jacob kills Eduard Borodin during a helicopter chase, Jacob sends a message to Niko suggesting they could fly over Jamaica.
In Grand Theft Auto V, the Epsilon Program leader Cris Formage asks Michael De Santa to help him transport a load of "apocalypse funds" offshore to the Cayman Islands during the mission Unknowing the Truth.
In Grand Theft Auto Online, the Caribbean makes its first physical appearance in the series. The Caribbean Sea and the island of Cayo Perico (located in the Colombian territory) are explorable, though in a limited area; if the player travels too far out of the map's limits, the player will be teleported back to Cayo Perico. It can only be explored during Heist Prep: Gather Intel and The Cayo Perico Heist. While exploring the bottom of the sea, the player may come across a number of places of interest, such as wrecks and dead bodies.
Locations in the Grand Theft Auto Series
3D Universe
HD Universe
References
↑

"

Thought to be the center of a major smuggling operation, run by South-American gangsters. Under surveillance by the FBI for years, but no known indictments. Property owned by a shell-company registered in the Cayman Islands. Links with Bogota-based smuggling operations well known

"

— GTA III website (Flash) -> Shoreside Vale -> Cartel Mansion