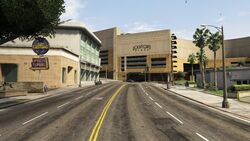 Burton is a small affluent shopping district in Grand Theft Auto V and Grand Theft Auto Online located in southeastern Rockford Hills, Los Santos.
Description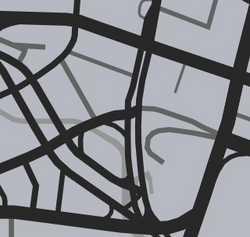 It is bordered by Downtown to the south, Hawick and Alta to the east, West Vinewood to the northeast, and the rest of Rockford Hills to the northwest. Despite being a neighborhood in Rockford Hills, the in-game GPS boundaries and the official digital manual map considers Burton to be part of Vinewood.
Burton, unlike the rest of Rockford Hills, is primarily meant for shopping. The Rockford Plaza shopping centre is located in Burton. There is also a Los Santos Transit station located nearby allowing easy access to the plaza. The plaza itself contains many businesses such as Cluckin' Bell.
Even though Burton is mostly for buying high-end items, half of the Rockford Hills City Hall is located in Burton, towards the southeast. The rest of Burton is mainly just shops and businesses.
Burton also comprises the most centrally located Los Santos Customs store in the entire city. Its surroundings - including Carcer Way - have been considered one of the most violent areas in Los Santos in Grand Theft Auto Online, mainly due to its huge popularity among players.
Events of Grand Theft Auto V
During Doting Dad, Tracey will ask Michael to stop by the Cluckin' Bell found on Rockford Plaza.
Influence
Burton is based on Beverly Grove and its name comes from Burton Way, the main highway that runs through the district (which in turn is what Abe Milton Parkway is based on).
Transport
Burton is provided transport by the Los Santos Transit in the form of the Burton Station. It is strategically placed right in front of Rockford Plaza, helping wealthy people go from a long day of shopping to their fancy homes in Rockford Hills.
Notable Residents
Roads and Streets
Places of Interest
Businesses
Boutique Call
Café Austère
Pikeys Los Santos