Fire Emblem Warriors: Three Hopes - The Loop
Play Sound
"
Forget those mainstream firemen and the lifeguards. Be an alternative hero in your own Bugstars brand Burrito. Whether you relish the smell of fumigation agents or are looking to repurpose a classic Declasse like the grubby hipster you are, you'll find yourself in a vehicle that can be enthusiastically described as 'capable'.
"
—
Warstock Cache & Carry
description.
The Declasse Bugstars Burrito (formerly simply "Burrito") is a van appearing in Grand Theft Auto V, and in Grand Theft Auto Online as part of The Diamond Casino & Resort update. It remains under the name "Burrito" in the original versions of the game.
Design
Grand Theft Auto V and Grand Theft Auto Online
The vehicle is essentially a second generation Burrito with a Bugstars livery that cannot be changed or removed, consisting of a blue color with an orange stripe at the bottom, as well as various company markings on the hood, doors, sides and rear doors. It has several tool boxes in the rear compartment, which is different from other Burrito variants.
Compared to the other vehicles, the Bugstar Burrito has a relatively special color distribution. The primary color of the vehicle is applied to the inner frames, while the secondary color is applied to the body, which can alter the livery's appearance.
The Bugstars Burrito cannot be modified in Grand Theft Auto V. However, it can in GTA Online, although with basic options. It once could be resprayed upon its release, yet for unknown reasons, the respray option was made unavailable in a later update.
Current Design Gallery
Performance
Grand Theft Auto V and Grand Theft Auto Online
The Bugstars Burrito shares its handling with the regular second generation Burrito; it is, as expected, slow to accelerate, but maintains a relatively high top speed and handles relatively well compared to the likes of the Pony and Speedo. It is comparably lighter than most other vans in the game and is not able to ram other vehicles out of the way without a significant reduction in speed, often completely hauling the vehicle, making it vulnerable during pursuits and drive-by situations.
The vehicle sports a four-cylinder engine model laid transversely in a front-engine, rear wheel drive configuration, coupled up to a five-speed gearbox.
GTA V/GTA Online Overview



Vehicle Statistics - Grand Theft Auto V

Acceleration
(0-60 mph in Seconds)
Top Speed
(mph / kmh)
Gears
Engine
Drivetrain
(FWD / RWD / AWD)
Mass
(kg / lbs)
Fuel Tank
Size (litres)

Handling.meta

[?]

N/A
81 / 130
5
N/A
RWD
2500 / 5512
60

Website Statements

[?]

/ Badges

N/A
N/A
N/A
N/A
N/A
N/A
N/A

Observed

N/A
N/A
5

FR

SOHC

Inline-4 (In-game model)
RWD
Cannot be observed
Cannot be observed

Rockstar Games Social Club

Speed
Acceleration
Braking
Traction
Modifications
Grand Theft Auto Online
Category
Modification
Cost
Armor
No Armor
$1,000
Armor Upgrade 20%
$7,500
Armor Upgrade 40%
$12,000
Armor Upgrade 60%
$20,000
Armor Upgrade 80%
$35,000
Armor Upgrade 100%
$50,000
Brakes
Stock Brakes
$1,000
Street Brakes
$20,000
Sport Brakes
$27,000
Race Brakes
$35,000
Engine
EMS Upgrade, Level 1
$9,000
EMS Upgrade, Level 2
$12,500
EMS Upgrade, Level 3
$18,000
EMS Upgrade, Level 4
$33,500
Explosives
Ignition Bomb
$5,000
Remote Bomb
$7,500
Horns
Main article: Los Santos Customs/Horns
-
Lights
Headlights
Stock Lights
$600
Xenon Lights
$7,500
Neon Kits
Main article: Los Santos Customs/Lights
-
Loss/Theft Prevention
Tracker
$2,000
Full Coverage
$56,250
Plates
Blue on White 1
$200
Blue on White 2
$200
Blue on White 3
$200
Yellow on Blue
$300
Yellow on Black
$600
Sell
Sell Vehicle
Cannot be sold
Suspension
Stock Suspension
$200
Lowered Suspension
$1,000
Street Suspension
$2,000
Sport Suspension
$3,400
Competition Suspension
$4,400
Transmission
Stock Transmission
$1,000
Street Transmission
$29,500
Sports Transmission
$32,500
Race Transmission
$40,000
Turbo
None
$5,000
Turbo Tuning
$50,000
Wheels
Main article: Los Santos Customs/Wheels
-
Windows
None
$500
Light Smoke
$1,500
Dark Smoke
$3,500
Limo
$5,000
Image Gallery
Grand Theft Auto V
Prominent Appearances in Missions
Grand Theft Auto V
Heists
Grand Theft Auto Online
Casino Work
Heists
Locations
Grand Theft Auto V
Grand Theft Auto Online
Enhanced version
Will appear during the Casino Work mission Best Laid Plans. However, only the van driven by one of the four final targets can be stolen, although it is still unable to modify or store at a personal garage (but can be used as a "seed vehicle", as explained below).
After The Diamond Casino Heist update, the Bugstars Burrito can be purchased from Warstock Cache & Carry for $598,500, or for $450,000 after completing The Diamond Casino Heist as Leader. The vehicle will become a Personal Vehicle.
The Bugstars Burrito can be used as a "seed vehicle" to spawn another at the Bugstars Warehouse that can be kept as a personal vehicle. However, the street-found Bugstars Burrito cannot be sold, as its value is beyond $50,000.
Changes
Trivia
Grand Theft Auto Online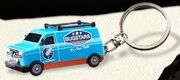 The Bugstars Van is represented in a key-chain version of the van, offered in a collectibles giveaway on October 4th.
Warstock Cache & Carry lists the vehicle as only capable of carrying 2 players, despite actually being able to carry 4.[3]
When the player owns one in GTA Online and modifies it using the IFruit App, it will show up in iFruit under the name "Declasse Burrito Deluxe", despite the fact that no vehicle with that name exists in-game. It will also use the icon of the Karin Asterope rather than the icon of a van.
The Bugstars Burrito does not have a default radio station, but the radio will shuffle when the player gets in the van.
References
↑ As part of The Diamond Casino Heist update (enhanced version only)
↑ File Data:


Before (and original version)

<gameName>BURRITO</gameName>
BURRITO = Burrito

After (Enhanced version)

<gameName>BURRITO2</gameName>
BURRITO2 = Bugstars Burrito

↑ File Data:

LAYOUT_VAN
seat_pside_r
seat_dside_r