Bravado is an American automotive manufacturer in the HD Universe of the Grand Theft Auto series.
Overview
Based on the designs of the vehicles, Bravado is mainly based on Dodge; however, several of its cars are based on non-Dodge vehicles.
Bravado is defined as "a bold manner or a show of boldness intended to impress or intimidate"; this may be a reference to the manufacturer's cars' size and power (much like how Dodge vehicles are large and have great engine power).
Bravado's logo of a charging bull is a parody of Dodge's ram logo used since 1993 (which was discontinued in 2010 but continues as a logo for the Ram Truck line up). In Grand Theft Auto V they have a TV commercial showcasing the Bison, Gauntlet, and Buffalo S, parodying various Dodge commercials.
Vehicles
Gallery
General
Video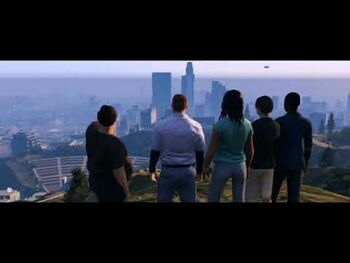 Merchandise in GTA Online
Tops
Trivia
The bull's mouth on the Bravado logo resembles a penis when observed closely.
Bravado seems to play on its car names relating to animals, with names such as Buffalo and Bison (both four-legged mammals sporting horns), directly mimicking Dodge's "Ram" subsidiary.
According to several in-game advertisements and articles, Bravado neared bankruptcy at one point by 2013, and was bailed out by the U.S. government using taxpayer money. This parodies the actual bailout of the auto industry in 2008.