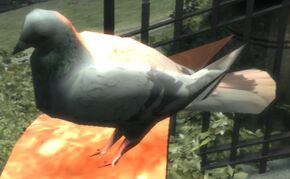 Birds are one of the few animals in the GTA series, appearing in Grand Theft Auto: San Andreas, Grand Theft Auto IV and Grand Theft Auto V. In GTA V, birds that are in the air can be shot down, and their carcass can be viewed on the surface they land on.
Spawning Points
GTA San Andreas
Different birds spawn everywhere around San Andreas.
Grand Theft Auto IV
Pigeons, or "flying rats" appear all over Liberty City. Exterminating them all earns a reward.
Seagulls on beaches.
Eagles in the trailer. Possibly removed from the final build.
Grand Theft Auto V
In-game, the player will find seagulls, crows, cormorants, and a few other species of birds which are usually found while flying aircraft. They mostly appear in brown, black, and grey.
In the enhanced version, the player can fly different species of birds via Peyote Plants.
Grand Theft Auto Online
Peyote Plants were added as part of the continuation of the The Diamond Casino & Resort update; they function like the plants in GTA V, transforming the player into a random animal, some of which are bird species.
Gallery
Trivia
In GTA V, there are some places such as Mount Gordo where Owls can be heard hooting, but they don't physically appear in the game.
Community content is available under
CC-BY-SA
unless otherwise noted.