The article is subject to high amounts of speculative content


Please add references to any content added to the page otherwise the edit will be reverted. Any content that cannot be verified could be discussed on the talk page first.
The accuracy of some information on this page has been disputed.



You can help by making this verification, finding sources to prove the integrity of the information or by discussing any changes that could be made on the article's talk page.
Before the release of Grand Theft Auto V and Grand Theft Auto Online, there were features that were removed from the final product. These changes range from deleted vehicles and player skins to the removal of entire characters and mission strands.
Characters
According to the Rush Casting Call, a lot of characters' names in Grand Theft Auto V were changed. The names mentioned were:
As seen in trailer #1, Michael had green eyes. In the Michael trailer, he had brown eyes. Although they were changed back to green in the final version.
Michael looked older in trailer 1 & 2 and some early screenshots and in Michael's trailer he looked younger and had black hair.
Franklin had a lighter skin and looked more Hispanic than African-American in trailer 1.
In the gameplay trailer, Jordan was playing tennis against Michael, but he was replaced by Rae instead.
In the First Person Experience Trailer, Trevor didn't have scars on his hands.
Clothing
Missions
Changed Names
Changed Elements
Franklin was originally supposed to take Trevor's role in Caida Libre.
Franklin and Lamar originally took place at night.
In the second trailer, Trevor Philips was seen driving the Crusader out the back of the Cargo Plane in Minor Turbulence, but was switched by driving a Mesa out the Cargo Plane.
In the gameplay trailer, Simeon Yetarian was Employee of the Month during Repossession. This was possibly done to conceal Franklin's surname prior to release.
During first Trailer, the loud approach for The Jewel Store Job the crew use Bugstars van, Bugstars Uniform and Gas Mask. Later the crew use suits & motorcycles but wear balaclava instead of helmets.
The mission Pack Man took place in the Davis Strawberry area instead of Paleto Bay (seen in screenshots and the second trailer).
Michael originally used the normal pistol during the mission Three's Company.
Scouting the Port originally involved the use of a Forklift to move crates. This section most likely was cut because of the constant issues with the crates bouncing off the forks and other difficulties, it could also have been removed for other reasons.
Wade was meant to have Juggalo makeup in the initial cutscene for The Merryweather Heist freight method.
Trevor, Lamar and Franklin would of worn bandanas in Hood Safari according to the screenshot, but Lamar and Franklin wore bandanas in Franklin's trailer.
Stretch didn't wear his cap in The Long Stretch, also the mission started at late night originally instead of late evening.
Tonya's Stranger's and Freaks missions were originally Odd-Jobs.
The Paleto Score originally had another option where Franklin would rescue the crew in a tank, also this mission originally took place at night.
Architect's Plans originally had three options to complete the mission.
Devin Weston's mission strand originally was like this: Social Networking, Eye In The Sky, I Fought The Law, Deep Inside, Pack Man.
Solomon Richards' mission strand originally was like this: Mr. Richards, The Ballad of Rocco/Final Furlong, Legal Trouble/Save Film Studio, Harrier, Meltdown
Dialing Jay Norris' phone bomb in Friend Request was originally a separate mission called Selling Short.
Monkey Business originally had a helicopter chase through the city with the player fending off pursuers. The player had to transfer the container and parachute to safety.
Cut Missions
A mission involving Michael stealing a Harrier jet for Solomon Richards was cut.
A mission involving Michael saving the film studio for Solomon Richards was cut.
A mission called Social Networking for Devin Weston that included a appearance of Brucie Kibbutz was cut.
A heist called The Sharmoota Job was cut. It had three options (Night Stealth, High Impact and Clown Day Stealth) and two preparation missions.
A mission called Final Furlong for Solomon Richards was cut. It is unknown if it was a separate mission or the old name for The Ballad of Rocco as both missions take the same place in a mission strand.
Michael had two Strangers and Freaks missions with a lady called Magenta that were cut. She still appears in game at the start of the mission The Long Stretch.
Franklin had two Stranger and Freaks missions with a man called Dale.
Franklin had five Stranger and Freaks missions with two fighting neighbours.
Two unknown missions for "The Band" were cut. One involved bringing the band members back together and the second involved stopping Trevor from sabotaging the concert.
Another Strangers and Freaks mission for Barry was cut. It involved Franklin stealing a helicopter with weed.
Cinema Property had two more missions; Protest and Recover Stolen Film.
Six Bail Jumper missions were cut. Marshes, Winery, Surf Shop, Subway, Coast, Venice.
Devin's mission strand originally had an intro cutscene.
Cut Side Missions
Vigilante Missions were removed.
Drug Dealing in Grand Theft Auto Online was cut.
Pimping was removed.
Mini-Games like Basketball, Air Hockey, Pool, Bowling, weightlifting, and stealing/exporting were cut.
The following Random Events were cut: Broken Down 1, Broken Down 2 'Hot Chick', Broken Down 3, Broken Down 4, Broken Down 6, Broken Down 7, Broken Down 8, Broken Down 9, Broken Down 10, Hitch Lift 4, Mugging 4, Pick Pocket, RC Challenge Mode, Rescue Hostage, Tow Truck, Ungrateful Whore and Wanderer.
14 Arms Trafficking Ground missions were cut.
Towing Patrol odd job was cut. It involved the player driving a Tow Truck on a freeway, towing away broken cars to keep the traffic flowing as long as possible.
Towing Illegally Parked Vehicles odd job was cut.
Taxi I know a Way mission type was cut. The player would have to follow the passenger's directions with no blips or GPS.
Formation Display Flight School lesson was cut.
Escort Cargo Flight School lesson for GTA Online was cut.
Other
There was possibly another heist involving a 'Heat'- style bank robbery where the 3 protagonists dressed in suits and balaclavas had a massive shoot-out with the LSPD in the LS Downtown core (Probably removed due to similarities with the GTA IV mission Three Leaf Clover - A screenshot with Michael in a white suit not available in the game and numerous artworks with the 3 protagonists dressed in suits and balaclavas can be found)
The Heat styled heist was possibly a beta version of the Big Score: Obvious approach.
Animals
Chop originally wore just a plain brown collar (as seen in screenshots and trailers).
There were more dog breeds (eg. Huskies, Files can be found). These were postponed till the enhanced version.
Horses were meant to appear in the game, most likely would have been seen in the Vinewood Racetrack, Ranch or Farms, (removed for unknown reasons, as files "left over" could have been similar to Red Dead Redemption).
City
Weapons
So far, this is the list of the weapons removed or changed during development, though they could be released as DLC in the future:
Vehicles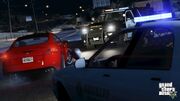 Police cars were depicted with blue emergency lights on the driver's side of the car and red lights on the passenger' side.
In the beta, some police vehicles, particularly Sheriff's Cruisers had older coloured San Andreas license plates, as opposed to the SA Exempt plate found in game on all emergency vehicles.
The Dominator had slighty different tailights, having a more resemblance to its real life counterpart, the Ford Mustang.
The Hydra was supposed to be the main fighter jet in GTA V, until being replaced by the P-996 LAZER. The vehicle, however, returns in GTA Online as part of the Heists Update.
Several cars were depicted in the Handling.cfg, such the Hind, the Napalm, the Scamp, and others.
The 1st gen Tipper seen in the Cunning Stunt Academy had a different grille and rear lights of a Rubble.
The Hunter attack helicopter from 3D Universe was cut in the game for unknown reasons. The vehicle can be seen in a trailer of The Simian.
Several vehicles were depicted in the Warstock Cache & Carry advertisement, including: A beta Barracks, an Unknown Military ATV, a differently colored Titan and the previously mentioned Hunter.
The Rebel seen in Trevor's trailer was slighty larger, comparable to that of a Sandking SWB.
The tanker trailer was seen in a red color instead of the current orange.
Unused
Soundtrack
According to some users, there were several songs removed from the game. It is suspected that there might have been more songs cut from the soundtrack than featured in the actual game.  A complete list can be found here:
A$AP Rocky feat. Drake, 2 Chainz & Kendrick Lamar - Fuckin' Problems (2012)
Buddy - Awesome Awesome (2012)
French Montana feat. Rick Ross, Drake & Lil Wayne - Pop That (2012)
Glasses Malone feat. Jay Rock - No Sympathy (2011)
T.I. feat. Trae tha Truth - Check This, Dig That (2012)
Tyga - Rack City (2011)
Waka Flocka Flame - Rooster In My Rari (2012)
Con Funk Shun - Ffun (1978)
Kleeer - Intimate Connection (1984)
Rick James - You and I (1978)
Zapp - Be Alright (LP Version) (1980)
2Pac feat. K-Ci & JoJo - How Do U Want It (1996)
2Pac feat. Dramacydal - Outlaw (1995)
Bone Thugs-N-Harmony - Mr. Bill Collector (1995)
DJ Pooh feat. Kam - Whoop! Whoop! (1997)
Mack 10 feat. Ice Cube & WC - Westside Slaughterhouse (1995)
Nate Dogg - I Got Love (2001)
Spice 1 - 187 Proof (1992)
Warren G feat. Nate Dogg - Regulate (1994)
Bob Dylan - Subterranean Homesick Blues (1965)
Commander Cody and His Lost Planet Airmen - Hot Rod Lincoln (1972)
Hank Williams III - D. Ray White (2006)
Jimmy Martin - Run Pete Run (1977)
Johnny Cash - Bad News (1964)
Johnny Paycheck - (Pardon Me) I've Got Someone To Kill (1978)
Waylon Jennings - This Time (1974)
Cheap Trick - Surrender (1978)
Crowded House - It's Only Natural (1991)
Def Leppard - Hysteria (1987)
Golden Earring - Radar Love (1973)
Kenny Loggins - I'm Alright (1980)
Kenny Rogers & The First Edition - Just Dropped In (To See What Condition My Condition Was In) (1967)
Kiki Dee - Star (1981)
Michael McDonald - Blink Of An Eye (1993)
Paul Weller - Round And Round (1992)
Ram Jam - Black Betty (1977)
Rare Earth - Get Ready (1969)
Robbie Dupree - Steal Away (1980)
Robert Lamm - Sleeping In The Middle of The Bed (Again) (1994)
Small Faces - Tin Soldier (1967)
Steve Harley & Cockney Rebel - Make Me Smile (Come Up and See Me) (1975)
Stevie Nicks - Sable On Blond (1983)
The Cult - 'Lil Devil (1987)
The Cult - Wild Flower (1987)
The Prime Movers - As Strong As I Am (1985)
Steve Miller Band - Take the Money and Run (1976)
Edwin Starr - Easin' in (1973)
Jackson 5 - Dancing Machine (1973)
Marvin Gaye - I Want You (Vocal) (1976)
Ohio Players - Fopp (1976)
Silver Convention - Magic Mountain (1976)
The Dramatics - Whatcha See is Whatcha Get (1971)
The Kay-Gees - Master Plan (1974)
The Meters - Cissy Strut (1969)
The Pointer Sisters - Yes We Can Can (1973)
War - Slippin' into Darkness (1971)
Bramma feat. Elephant Man - Duh Weh Mi Waah (2011)
Dennis Brown - Westbound Train (1978)
Gregory Isaacs - Slum (1989)
Junior Murvin - Police and Thieves (1976)
Lee Perry & The Upsetters - Jungle Lion (1973)
Leo Graham - Want a Wine (1973)
Linval Thompson - Jah Jah The Conquerer (1975)
Sean Paul - Temperature (2006)
Sizzla - Live Up (2003)
Belinda Carlisle - Circle in the Sand (1987)*
Cobra Starship feat. Sabi - You Make Me Feel... (2011)
Duncan Sheik - She Runs Away (Peter Nashel Remix) (1996)
Duran Duran - Serious (1990)
Enrique Iglesias feat. Pitbull - I Like It (2010)
Estelle feat. Kanye West - American Boy (2008)
Jamiroquai - Love Foolosophy (2001)
Kevin Rudolf feat. Lil Wayne - Let It Rock (2008)
Kylie Minogue - 2 Hearts (2007)
Neon Trees - Animal (2010)
Seal - Future Love Paradise (1991)
Tears For Fears - Everybody Wants To Rule The World (1985)
The Supermen Lovers feat. Mani Hoffman - Starlight (2001)
Timbaland feat. Keri Hilson & D.O.E. - The Way I Are (2007)
Wilson Phillips - Hold On (1990)
( * Song was meant to be on Non-Stop-Pop FM, but was later placed in Los Santos Rock Radio in the enhanced editions)
Weldon Irvine - We Gettin' Down (1975)
Madlib feat. Liberation - What It Do (2008)
The Clash - This Is Radio Clash (1981)
Rainbow Arabia - Blind (2011)
Ultraísta - Smalltalk (Four Tet Remix) (2012)
Agent Orange - Bloodstains (1979)
Bad Religion - We're Only Gonna Die Young (1982)
Circle Jerks - Dude (1985)
The Alley Cats - Nothing Means Nothing Anymore (1978)
Descendents - Ride The Wild (1979)
The Germs - Manimal (1979)
The Gun Club - Sex Beat (1981)
Ducktails - Assistant Director (2013)
Friendly Fires - Hurting (2011)
Future Islands - Before the Bridge (2011)
Gold Fields - Thunder (2013)
Junior Boys - ep (2011)
Miike Snow - Animal (2009)
Moving Units - Until She Says (2011)
Panama - One Piece (2013)
The Shoes - Time to Dance (2010)
Toro Y Moi - Day One (2013)
Twin Shadow - Run My Heart (2012)
Cold War Kids - Hang Me Up To Dry (2006)
DIIV - Doused (2012)
Hanni El Khatib - Head in the Dirt (2013)
No Age - Eraser (2008)
Psychic Ills - I Get By (2013)
Sweethead - The Great Disruptors (2009)
Tame Impala - Solitude Is Bliss (2010)
SebastiAn feat. Mayer Hawthorne - Love In Motion (2011)
George Duke - Reach For It (1977)
Sneaker Pimps - 6 Underground (Bluebottle Mix) (1996)

Additionally, there was a cut 90s Rock radio station called "P.M.R." The station was replaced by Vinewood Boulevard Radio as the game's file lists the station under "90s Rock", and the logo can be seen on the radio wheel within the files as well. The station would've played 90s Alternative Rock/Metal, Brit Pop/Brit Rock, Indie Rock, and Post-Grunge. Songs that were meant for this station include:
Faith No More - The Real Thing (1989)
Oasis - (It's Good) To Be Free (1994)
Mansun - Wide Open Space (1996)
Staind - It's Been Awhile (2001)
Stereophonics - Mr. Writer (2001)
The Charlatans - The Only One I Know (1990)
Travis - Side (2001)
Also, the Greyhound (track from Original Score) is unused in whole Story Mode, as well as the Universal.
Others
Michael's mansion had different styled bushes.
According to a Game Informer interview released in November 2012, it seems that grass had a glossy sheen of morning dew, and alarm systems installed in rich houses on Vinewood Hills and Richman. In the actual release, these features are dropped.
The Parachute had the same color scheme as it did in The Ballad of Gay Tony according to the screenshot.
The ability to buy properties on the internet was cut for Grand Theft Auto Online. Dialogue exists in the games files mentioning this however.
The interior of a certain apartment in GTA Online had a different look.
The player was originally able to buy drugs from Smoke on the Water but this ability was removed for an unknown reason. In the final game, Franklin maybe seen exiting the store when switching to him, implying that he has purchased something from it. 
Cops in the game were meant to use Tazers at wanted levels.
Female officers were meant to patrol with male officers, however they can only be seen at the station.
Modifications to vehicles such as Bass Boost, Nitro and Hydraulics would have returned in GTA V, but most of them were cut during development. Through modding however, it is possible to modify vehicles to have the Nitro and Hydraulics abilities, however it is unknown how to activate them and it's more likely that these are just parts of unused code.
There were originally different car exhaust sounds.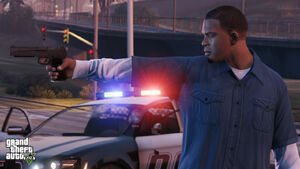 In a screenshot, Franklin can be seen wielding a Pistol .50 with one hand. But, in the final version of the game, he wields all pistols with two hands. It is likely this animation was only to appear in a cutscene of some sort or it was just made for the image.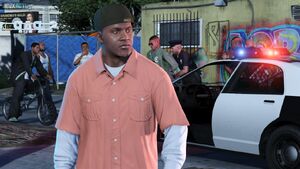 In another screenshot, Franklin can be seen walking away from Families members being arrested by the police, although no such event is seen in-game.
In Michael's trailer, he is seen using his elbow to hit Simeon, but this animation is never seen in-game or in cutscenes.
In the second trailer, a silver 9F is seen parked in Michael's driveway, in the same spot where Tracy's Issi would spawn from time to time. Since Amanda's Sentinel was already seen in that trailer, it used to belong to either Tracey or Michael.
Although, it was most likely Tracey's since the Tailgater is seen twice in the same trailer - Jimmy and Michael talking in the car (Did Somebody Say Yoga?) and behind the Frogger before the end of the trailer (beta Three's Company).
Cheetah and Chastity has a phone number, which was somewhat removed from the final version of the game. They can still be called but they have no dialogue.
Hiking was going to be a feature for the gameplay but was removed for unknown reasons.
Gyms was going to be a feature for the player to work out in the game, but was removed. However Franklin is seen working out at the Muscle Sands Gym in the Switch Scenes.
Originally, players were able to get six stars, like in previous GTA games. This was cut from the final game but still remains in the games code.