Arcane: League of Legends - The Loop
Play Sound
Before the release of Grand Theft Auto V, there were features that were removed from the final product. These changes range from deleted vehicles and player skins to the removal of entire characters and mission strands.
Characters
Clothing
In Franklin's trailer, Denise Clinton can be seen having a different appearance with a different hairstyle, glasses and a green hoodie representing the Families but this was changed before the game's release.
In The Long Stretch, Lamar Davis originally wore his green cap backwards, and his T-shirt had a logo of San Andreas Magnetics on it as seen in Franklin's trailer and some GTA Online missions.
Franklin Clinton was meant to wear a helmet during the Dom missions, and was able to wear different undershirts.
In Did Somebody Say Yoga?, Amanda wore a white robe and towel on her head as if she got out of the shower.
Ron Jakowski wore a different outfit in the second trailer.
In the Loud approach for The Jewel Store Job, Michael and the crew members originally wore balaclavas.
In Michael's trailer, Jimmy De Santa can be seen in Daddy's Little Girl wearing a red cap and striped shirt.

Also in Michael's trailer, Tahir Javan appears totally different than his final version.

In The Paleto Score, the crew originally wore masks along with their Ballistic Equipment rather than helmets. This can be seen in the Social Club image of the mission[6] and in the unused gear intended for Franklin[7].
At one point during the game's development, Michael had an LSPD uniform.
In Artworks, Franklin can be seen wearing earrings in only his left ear.
Missions
Various mission changes were made to the game before its initial release. It appears that while some missions were removed entirely, renamed or simply edited for the sake of better gameplay and an overall better storyline, some changes were made only during development for the sake of screenshots and trailer previews, particularly the configuration of pedestrians and major characters in cutscenes and the position of certain props and vehicles to ensure the video captured the most detail out of missions. For the sake of feasibility, all differences are listed as potential changes.
Animals
Chop originally wore just a plain brown collar (as seen in screenshots and trailers).
There were more dog breeds (e.g. Huskies, files can be found). These were postponed till the enhanced version.
Horses were meant to appear in the game, most likely would have been seen at the Vinewood Racetrack, Ranch or Farms, (removed for unknown reasons, as files "left over" could have been similar to Red Dead Redemption).
Map
An early version of the game's map can be found in the map, titled as a debug map. The map appears to be a relatively late version of the game's map in terms of development, given much of the map is similar, if not identical to the final game's map. It can be noted that for some reason, the Alamo Sea is not colour coded, as well as parts of the rivers connecting to it in the final game. This is likely a simple paste error and not a case of the location not existing in the game, given some areas of these locations can be seen in the first trailer of the game, including the Los Santos Storm Drain, which also lacks colour on the debug map.
As well as water errors on the debug map, it is apparent that several roads around the map are listed but are not marked on the map in the final game, but still exist, including roads inside Fort Zancudo and around the Bolingbroke Penitentiary.
While much of the game's map remains similar, clues around the world still suggest differences during development, including road signs.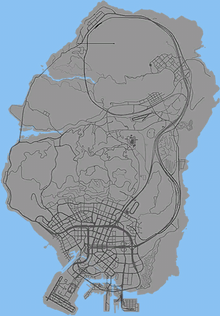 According to the debug map, ignoring the blatant mistakes with regards to water;
Around the map, during missions, within game trailers, and hints within the game's files, suggest other changes were made to the map itself:
The stretch of Milton Road to Didion Drive was formerly Vine Drive. Vine Drive can be referred to on numerous road signs ingame on Marlowe Drive in Vinewood Hills, Lenny Avery's website and GTA V's physical map itself.
Route 68 was originally going to be named Route 69.
Martin Madrazo's mansion in Vinewood Hills does have an interior, however it is of low quality and inaccessible. It has two floors. In the first trailer the beta version seemed more detailed and it looked like it would have been accessible to the player.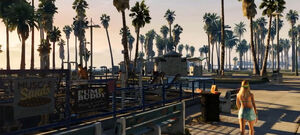 Jonathan Gwyn's Screenshots
Jonathan Gwyn is a 2D/3D game artist who worked as Senior Environment Artist for the countryside areas in Grand Theft Auto V. On his website, he posted early development screenshots of the game. Most of the screenshots were taken before the prop placements, like rocks and trees, and had no skydome. The game had a GTA IV-style rounded minimap, before it was replaced by a rectangular one.
Weapons
So far, this is the list of the weapons removed or changed during development, though they could be released as DLC in the future:
Vehicles
Many vehicles were cut from the game, identified in various screenshots, audio files and game data files. Among those cut are the Hunter which only later returns for the enhanced version of the game, the Admiral, Esperanto, Presidente, Police Fugitive, a Combine Harvester, a military Patriot named the Squaddie, the original Feltzer, Bobcat and Comet, and, if counted as a vehicle, Horses, as they were intended to be ride-able like vehicles. Only a few cut vehicles can actually be restored, namely an FIB Frogger, a Ramp-door Mule (which only later appears in GTA Online) and two towable farm trailers, the Baletrailer and Graintrailer.
Various vehicles cut from the game have returned throughout GTA Online content updates. The jet pack is mentioned various times in the game's code and was eventually added as part of the The Doomsday Heist update. The Hydra was added as part of the Heists Update, the Hunter added as part of the Smuggler's Run update, and the Squaddie as part of The Cayo Perico Heist update.
As well as entirely cut vehicles, many changes were made to vehicles that are still in the final game. Many of these changes are small but very noticeable, such as colour scheme changes to the Taco Van, new rims for cars such as the Comet and Baller, changes to siren and police light layouts on various emergency vehicles, cut vehicle modifications on the Police Cruiser, Clown Van and Rapid GT convertible. Some of these can be restored as they remain in the game's files, while others cannot without heavily modifying the game.
Some vehicles were replaced with others. The Police Maverick assumed the design of the first generation Maverick as it did in GTA IV, with an updated LSPD livery, as seen during the first trailer, but was quickly changed to an updated "second generation" design that the helicopter now assumes. LSPD also used the original Police Cruiser assuming its "first generation" design from GTA IV, before being updated to a new "second generation" design. The first generation model still appears as a civilian vehicle under the name Stanier.
Vehicle's names were also changed before the game's release. Some name changes are relatively minor, such as the Dozer originally being named the "Bulldozer", the Dashound as "Coach" and Dodo as "Seaplane". Some changed entirely; the Gresley as "Detonator", the Roosevelt as "B-type", the Insurgent as "Armordillo", Valkyrie as "Napalm" and Adder as "Venom".
Other minor changes include how vehicles spawn. In various trailers, vehicles that only appear during specific missions appear in regular traffic, such as the Fame or Shame Trailer during Franklin's trailer, the Cognoscenti Cabrio and Bodhi in the first game trailer. Game code also reveals the Cheetah was originally intended to spawn in regular traffic, and the Annihilator was to serve as a NOOSE operative vehicle that spawned during higher wanted levels.
Sound Effects
HUD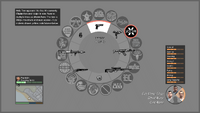 Michael, Franklin and Trevor originally had different mission completion themes, and of variety, similar to that in GTA IV. These remain in the audio files.
The radio dial icons for Radio Los Santos, Soulwax FM and West Coast Classics were originally different from the final version.
Originally the pause menu had pictures of areas of Los Santos and Blaine County in the background, similar to the pause menu backgrounds in Grand Theft Auto: San Andreas. These background images were made by the Lead Graphic Artist Steven Walsh.
Ambiance
Various unused alarm sounds exist in the files.
Among ambient distant vehicle audio sounds, various vehicle names are spelled incorrectly, or do not correspond to their actual in-game engine sound, suggesting changes were made to vehicles during development:

"Banchee"
"Carbonizare"
"Cheeta"
"Commet"
"Deamon"
Khamelion, using an internal combustion engine sound similar to the Entity XF rather than electrical sound.
"Rapid"
Vehicles
The Freight Train appeared to have different, much longer horns. These remain in the audio files.
The original GTA IV sirens for police vehicles remain in the audio files, however are unused.
The Police Maverick's camera sound effects were changed before release. The original sound effects remain in the files.
The original GTA IV Fire Truck horn remains in the audio files but is unused.
Miscellaneous
Sound effects for Air Hockey remain unused in the files.
Soundtrack
Radio Stations
Pre-Millennium Radio and Santos Surf stations were cut from the final version. According to some users , there were several songs removed from the game. It is suspected that there might have been more songs cut from the soundtrack than featured in the actual game. A complete list can be found here:
A$AP Rocky feat. Drake, 2 Chainz & Kendrick Lamar - Fuckin' Problems (2012)
Buddy - Awesome Awesome (2012)
French Montana feat. Rick Ross, Drake & Lil Wayne - Pop That (2012)
Glasses Malone feat. Jay Rock - No Sympathy (2011)
T.I. feat. Trae tha Truth - What It Do (2014)
Tyga - Rack City (2011)
Waka Flocka Flame - Rooster In My Rari (2012)
Con Funk Shun - Ffun (1978)
George Duke - Reach For It (1977)
Kleeer - Intimate Connection (1984)
Rick James - Mary Jane (1978)
Rick James - You and I (1978)
Zapp - Be Alright (LP Version) (1980)
2Pac feat. K-Ci & JoJo - How Do U Want It (1996)
Bone Thugs-N-Harmony - Mr. Bill Collector (1995)
DJ Pooh feat. Kam - Whoop! Whoop! (1997)
Mack 10 feat. Ice Cube & WC - Westside Slaughterhouse (1995)
Nate Dogg - I Got Love (2001)
Warren G feat. Nate Dogg - Regulate (1994)
Bob Dylan - Subterranean Homesick Blues (1965)
Commander Cody and His Lost Planet Airmen - Hot Rod Lincoln (1972)
Hank Williams III - D. Ray White (2006)
Jimmy Martin - Run Pete Run (1977)
Johnny Paycheck - (Pardon Me) I've Got Someone To Kill (1978)
Waylon Jennings - This Time (1974)
Crowded House - It's Only Natural (1991)
Duran Duran - Serious (1990)
Golden Earring - Radar Love (1973)
Kenny Loggins - I'm Alright (1980)
Kiki Dee - Star (1981)
Michael McDonald - Blink Of An Eye (1993)
Paul Weller - Round And Round (1992)
Ram Jam - Black Betty (1977)
Rare Earth - Get Ready (1969)
Robbie Dupree - Steal Away (1980)
Robert Lamm - Sleeping In The Middle of The Bed (Again) (1994)
Small Faces - Tin Soldier (1967)
Steve Harley & Cockney Rebel - Make Me Smile (Come Up and See Me) (1975)
Stevie Nicks - Sable On Blond (1983)
Tears For Fears - Everybody Wants To Rule The World (1985)
The Clash - This Is Radio Clash (1981)
The Cult - 'Lil Devil (1987)
The Cult - Outlaw (1987)
The Cult - Wild Flower (1987)
The Prime Movers - As Strong As I Am (1985)
Edwin Starr - Easin' in (1973)
Jackson 5 - Dancing Machine (1973)
Marvin Gaye - I Want You (Vocal) (1976)
Ohio Players - Fopp (1976)
The Dramatics - Whatcha See is Whatcha Get (1971)
The Kay-Gees - Master Plan (1974)
The Meters - Cissy Strut (1969)
The Pointer Sisters - Yes We Can Can (1973)
War - Slippin' into Darkness (1971)
Weldon Irvine - We Gettin' Down (1975)
Bramma feat. Elephant Man - Duh Weh Mi Waah (2011)
Dennis Brown - Westbound Train (1978)
Gregory Isaacs - Slum (1989)
Junior Murvin - Police and Thieves (1976)
Lee Perry & The Upsetters - Jungle Lion (1973)
Leo Graham - Want a Wine (1973)
Linval Thompson - Jah Jah The Conquerer (1975)
Sean Paul - Temperature (2006)
Sizzla - Living Up (2002)
Belinda Carlisle - Circle in the Sand (1987) (Song was meant to be on Non-Stop-Pop FM, but was later placed in Los Santos Rock Radio in the enhanced editions)
Cobra Starship feat. Sabi - You Make Me Feel... (2011)
Duncan Sheik - She Runs Away (1996)
Enrique Iglesias feat. Pitbull - I Like It (2010)
Estelle feat. Kanye West - American Boy (2008)
Jamiroquai - Love Foolosophy (2001)
Kevin Rudolf feat. Lil Wayne - Let It Rock (2008)
Kylie Minogue - Surrender (1994)
Neon Trees - Animal (2010)
Seal - Future Love Paradise (1991)
Sneaker Pimps - 6 Underground (Bluebottle Mix) (1996)
Timbaland feat. Keri Hilson & D.O.E. - The Way I Are (2007)
Wilson Phillips - Hold On (1990)
Bad Religion - We're Only Gonna Die (1982)
Circle Jerks - Dude (1985)
The Alley Cats - Nothing Means Nothing Anymore (1978)
Descendents - Ride The Wild (1979)
The Germs - Manimal (1979)
The Gun Club - Sex Beat (1981)
Digitalism - 2 Hearts (2011)
Ducktails - Assistant Director (2013)
Friendly Fires - Hurting (2011)
Future Islands - Before the Bridge (2011)
Gold Fields - Thunder (2013)
Junior Boys - ep (2011)
Miike Snow - Animal (2009)
Moving Units - Until She Says (2011)
Panama - One Piece (2013)
Rainbow Arabia - Blind (2011)
SebastiAn feat. Mayer Hawthorne - Love In Motion (2011)
The Shoes - Time to Dance (2010)
Toro Y Moi - Day One (2013)
Twin Shadow - Run My Heart (2012)
Ultraísta - Smalltalk (Four Tet Remix) (2012)
Cold War Kids - Hang Me Up To Dry (2006)
DIIV - Doused (2012)
Hanni El Khatib - Head in the Dirt (2013)
Hanni El Khatib - Pay No Mind (2013)
No Age - Eraser (2008)
Psychic Ills - I Get By (2013)
Tame Impala - Solitude Is Bliss (2010)
Other
Additionally, there was a cut 90s Rock radio station called "Pre-Millennium Radio".
Faith No More - The Real Thing (1989)
Oasis - (It's Good) To Be Free (1994)
Mansun - Wide Open Space (1996)
Staind - It's Been Awhile (2001)
Stereophonics - Mr. Writer (2001)
The Charlatans - The Only One I Know (1990)
Travis - Side (2001)
Official Soundtrack
The "Epsilon" theme was originally much more sinister and eerie, as indicated by various unused Epsilon audio files in the game files. These tracks use the same melody but with more depressive tones.
Miscellaneous
The Parachute had the same color scheme as it did in The Ballad of Gay Tony according to the screenshot.
The ability to buy properties on the internet was cut and moved to Grand Theft Auto Online. Dialogue exists in the games files mentioning, and it is also mentioned in the game's gameplay trailer.[9]
Female officers were meant to patrol with male officers, however they can only be seen at stations.
In a screenshot, Franklin can be seen wielding a Pistol .50 with one hand. But, in the final version of the game, he wields all pistols with two hands. It is likely this animation was only to appear in a cutscene of some sort or it was just made for the image.[10]

In another screenshot, Franklin can be seen walking away from Families members being arrested by the police, although no such event is seen in-game.[11]

In the second trailer, a silver 9F is seen parked in Michael's driveway, in the same spot where Tracy's Issi would spawn from time to time.

Although, it was most likely Tracey's since the Tailgater is seen twice in the same trailer - Jimmy and Michael talking in the car (Did Somebody Say Yoga?) and behind the Frogger before the end of the trailer (beta Three's Company).

The HUD of car statistics in Los Santos Customs was different, as seen in the game's gameplay trailer.[12]
Cheetah and Chastity have phone numbers, which were somewhat removed from the final version of the game. They can still be called but have no dialogue.
Players could get a six star wanted level like in previous games. Although this was removed, it is still referenced in the game files. [13]
Updates and expansions for Story Mode were first announced in December 2013[14]. They were mentioned again in April 2014 during the GTA Online spring updates period.[15] On October 23, 2017, the director of design at Rockstar, Imran Sarwar, stated that GTA V will not be receiving story mode expansions, despite their intentions to release it in 2014. [16]
On November 12, 2012 Rockstar Games posted a tweet that GTA V could have Turkish language support; the tweet was then deleted a few days later. [17]
References