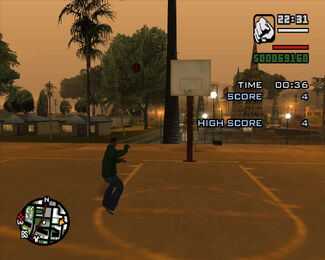 Basketball is a sport in the Grand Theft Auto series, most prominently available as an interactive game in Grand Theft Auto: San Andreas.
Description
While many basketball courts can be seen through the series, only Grand Theft Auto: San Andreas allows the player to actually play basketball. The player can score points by shooting the ball into a basketball hoop — the farther the distance, the more points the player gets — but has little to benefit from it other than having bragging rights. The player can also do tricks like spinning the ball with CJ's finger, or executing slam dunks by moving closer towards the hoop.
Although the player can't play with others and can only play with him/herself in GTA San Andreas, they can activate a mini-challenge to attain the most number of scores within an allocated time. The ability to play basketball is unlocked after completing the mission "Tagging Up Turf", when basketballs may appear in basketball courts. In the original PS2 version, it is available from the beginning.
Locations
This is a list of locations of basketball courts.
GTA III
GTA Vice City
GTA San Andreas
GTA IV
GTA V
Glitches
Saving at Madd Dogg's Crib sometimes indefinitely disables the option to play basketball or pool. 
If the player tries to play basketball while using a Jetpack, CJ will be stuck there until either he starves or the player reloads/resets the game.
Community content is available under
CC-BY-SA
unless otherwise noted.