---
---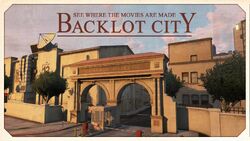 "
Once literally the back lot of Richards Majestic Studio at the pinnacle of their creative output when they still made watchable movies, Backlot City is now mainly a shopping district that sells overpriced products to white people...which is pretty much all that Richard Majestic movies do these days anyway.
"
—
GTA V
digital manual
Backlot City, simply referred to as Richards Majestic in the map and Richards Majestic Studio in the police dispatch, is a neighborhood in Los Santos, San Andreas, in Grand Theft Auto V and Grand Theft Auto Online. The entire neighborhood is gated and consists of only one business: Richards Majestic Productions.
Description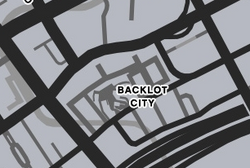 It is bordered by Del Perro to the west, Morningwood to the north, Rockford Hills to the east and north, and Little Seoul to the south.
Backlot City is a complex of offices, sound stages, and sets. Sound stages take up most of the space, while the center of the complex features an outdoor set dressed to look like a European seaside city. The outdoor set is filled with cameras, lighting, and sound equipment, while the remainder of the area features trailers (some of which can be entered), craft services trucks, and other paraphernalia related to the film business. Flashing red lights indicate studios in use, though they cannot be entered. The people in the area are also associated with film, including actors in costume and technicians working on equipment, as well as performers dressed in costume.
The area is regularly patrolled by Security Guards, and the protagonists will receive a two-star wanted level if they are caught trespassing. However, once Michael De Santa begins working for Richards Majestic Productions, he can enter Backlot City freely. In Grand Theft Auto Online, the wanted level is not enforced and the GTA Online Protagonist can access Backlot City freely.
Events of Grand Theft Auto V
By 2013, during the events of Grand Theft Auto V, Richards Majestic Studio has run into financial difficulty after the economic failure of some of his more recent productions. Tired of the movie business, Solomon Richards seeks to recover his studio's prestige and successfully retire after making one final movie: Meltdown. However, Solomon's son Ira Richards has a deal with billionaire holdings investor Devin Weston, who is also a major shareholder in Richards' production company, to retire his father so he can create a line of apartments and a theme park at the movie studio site, after the recently closed down Lowenstein Studios.
Solomon is later introduced to Michael De Santa by Devin Weston. Michael, a big fan of Solomon's work, agrees to help his idol complete his swan song picture.
Rocco Pelosi, a made man in the Liberty City–based Ancelotti Crime Family who is acting as a talent agent, attempts his scam on the film actor Milton McIlroy, who is appearing in the Meltdown movie. However, Solomon sends Michael De Santa to threaten Rocco into giving up his extortion. Michael sneaks onto Rocco's building and confronts him on his helipad, beating him severely and then taking McIlroy and director Anton Beaudelaire back to the Richards Majestic Productions studio, scaring them into obedience on the flight back. Later on, a vengeful Rocco and his associate Gianni break into Solomon's studio and assault Solomon for sending Michael after them and foiling their scheme. However, Michael arrives just in the nick of time as he was about to meet with Solomon, and after helping Solomon get up on his feet, Solomon tells Michael to get Rocco and Gianni. Michael obliges and chases both Rocco and Gianni out of the studio and through the city, and eventually kills them.
Michael returns to Backlot City and finds Solomon in his office. Solomon shows Michael the end credits of Solomon's current project; Michael is now listed as a producer. Michael sits for a while appreciating what he's accomplished.
Eventually, Solomon manages to complete the film, but he gets betrayed by Weston, who decides to shut down the studio and the production in order to cash in on the insurance and so that he can sell the studio property and develop it into luxury condos. Weston gives the analogue copy of the film to his attorney, Molly Schultz, as she leaves the city so that she can dispose of it, but Michael follows her to the airport and attempts to recover the film, scaring Molly (who believes Michael is trying to kill her) and causing her to accidentally get sucked into a jet engine. The film is left untouched and Michael manages to recover it, only to later discover that Solomon shot digital copies just in case, which Michael wasn't aware of.
Events of Grand Theft Auto Online
Gerald's Last Play
In early 2020, Gerald informs the GTA Online Protagonist that there is someone filling Impotent Rage figurines with cocaine and distributing them to buyers, so they need to steal a Gang Burrito filled with these figurines in the underground car park of the Betsy O'Neil Pavilion in Little Seoul. After stealing the van, Gerald informs the protagonist that the gang recently got back from a delivery at either ULSA or Backlot City, and that they should collect whatever was dropped off. The protagonist collects a total of six figurines scattered throughout the area before Gerald sends a message about another delivery in another location.
Los Santos Summer Special
In the summer of 2020, Solomon's office has been raided and with no faith in the capabilities of the LSPD, urges the GTA Online Protagonist (through an unknown contact) to come take a look. Once there, he sends a follow-up message asking the Protagonist to help find his stolen Movie Props and deliver them back to his studio. After all ten Movies Props have been returned, Solomon sends a final message thanking the protagonist for their help and telling them that he's left them a gift "money can't buy" in his office, and makes no further appearance.
Los Santos Tuners
In the summer of 2021, Sessanta will tell the GTA Online Protagonist that the biggest gangs in Los Santos want a few rats from inside the Bolingbroke Penitentiary to be killed as they have double-crossed these gangs. The player will need to find a way inside the penitentiary, have someone ID the targets, and assassinate them. In order to get over the Bolingbroke Penitentiary walls, the GTA Online Protagonist steals a stunt ramp from a movie set at a random location, which can be either Richards Majestic Studio or the LS River and is an Easter Egg recreation of Terminator 2: Judgment Day, with the Unnamed British Director representing James Cameron. A generic NPC dressed as Arnold Schwarzenegger's T-800 (The Terminator) will be armed with a Sawed-Off Shotgun and have much more health than usual.
The Contract
In late 2021, the film studio is briefly visited by the GTA Online Protagonist and Franklin Clinton during a golf cart chase in the mission On Course. During the mission, Franklin briefly mentions Michael De Santa as one of the producers around there, confirming he is still working for Solomon Richards in 2021.
Mission Appearances
Grand Theft Auto V
Grand Theft Auto Online
Executives and Other Criminals
Gerald's Last Play
Los Santos Summer Special
Los Santos Tuners
The Contract
Other
Influence
The neighborhood is based on Century City, whilst the studio building's location is based on the Fox Studio Lot in Century City. This is further apparent as the GTA V Digital Manual states that the neighborhood was once the back lot of Richards Majestic, which is how Century City was established, being once a backlot for Fox.
Streets
Places of Interest
Businesses
Collectibles
Grand Theft Auto V
Grand Theft Auto Online
Gallery
Grand Theft Auto V
Grand Theft Auto Online
Trivia
Grand Theft Auto V
Grand Theft Auto Online