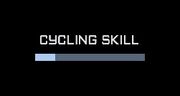 The BMX Challenge is a side mission in Grand Theft Auto: San Andreas. The mission is started by entering a parked BMX in Glen Park Skate Park with a cycling skill of more than 20%. The goal of the mission is to collect 19 floating coronas around the skate park before the countdown timer runs out of time. The timer starts when the cutscene finishes. Each corona will add 10 seconds to the timer. The reward for completing this mission is $1,000 and a step closer to 100%.
Even though the player can start the BMX Challenge with a cycling skill of 20% or more, it is advised that the player builds it up to 100% before attempting the challenge, since there are several coronas around the park that are nearly impossible to reach if CJ cannot bunny hop to the maximum height.
Tips and Tricks
If the player has any difficulty in reaching some of the higher coronas, they may exploit a glitch which will allow him to bunny hop higher. To do this, the player must be equipped with any Submachine Gun. The player must bunny hop, and immediately after, the player must tap the shoot button. You do not actually have to shoot but to hold the gun up, if the timing is fast enough you will jump a little bit higher but that requires some practice.
Glitches
The same glitch in NRG-500 Challenge, where the player is possible to have infinite time by going through corona before the mission failure sign shows up, can be used for this challenge too.
Video Walkthrough
See Also