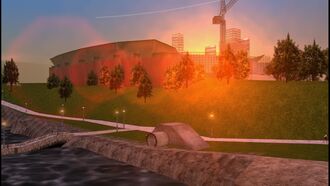 The Aspatria Waterfront Park is a Liberty City large public park on the east of Aspatria in the borough of Staunton Island at Liberty City, shown in Grand Theft Auto III and Grand Theft Auto: Liberty City Stories. Its size is considered the longest park in the city, but not the wider which would be occupied by the Belleville Park.
Character
Aspatria Waterfront Park named for its location next to the sea is the longest park in Liberty City, as it occupies almost the entire west side north of the island to the left of the Aspatria - Bedford Point Expressway, a fire station and The Bush Stadium, right off the coast of Shoreside Vale (in this case Wichita Gardens) and north of the Shoreside Lift Bridge where you can hear the bells of the bridge as well as an excellent view of this.
How the park is very different from any other because it rises and lowers its height level as also happens with the island, but despite this the park is always inhabited by pedestrians day and night in his two apparitions. In short, the park begins just south of Aspatria traveling around the district to end the Rockford Ferry Terminal in GTA LCS and GTA III on the Staunton Island Military Base, in Rockford.
Influences
The Aspatria Waterfront Park shows multiple similarities as the location to Riverside Park and Morningside Park in Upper West Side.
Mission Appearances
Grand Theft Auto: Liberty City Stories
Collectibles
Grand Theft Auto: Liberty City Stories
Gallery
Community content is available under
CC-BY-SA
unless otherwise noted.