Hsin: "The underhand dogs' weapons shipment is arriving right now. It makes my blood boil and my power of metaphor reach breaking point. I cannot allow a subordinate gang to stockpile weapons they might use against us."
Huang: "Sometimes, the hardest thing about being a parent is letting go."
―Hsin Jaoming and Huang Lee
Arms Out of Harm's Way is a mission given to Huang Lee by Hsin Jaoming in Grand Theft Auto: Chinatown Wars.
Description
Hsin informs Huang about a shipment of heavy weapons that the Koreans are about to receive. In fear of them using those weapons against the Triads, Hsin orders Huang to make sure they don't get them.
Walkthrough
Go to the dock marked on the map. There is a spike-strip at the entrance, so the player can't drive a car in. Grab the nearby Micro-SMG and kill the enemies on the way to the arms dealer. When the player reachs the arms dealer, he escapes in a Speeder, so get on the nearby Wet Ski and gun him down.
Mission Objectives
In order to complete the mission the player must:
Go to the docks
Stop the arms deal
Get on the wet ski
There are weapons on that boat. Destroy it
Mission Replay Description
"The Koreans' ledgers and files detailed a shipment of heavy arms they were about to receive.
Hsin wanted to make sure they never got them."
Gallery
Walkthrough
Video Walkthroughs
Arms Out of Harm's Way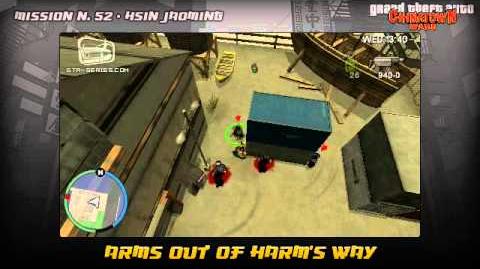 Arms Out of Harm's Way
Community content is available under
CC-BY-SA
unless otherwise noted.