| | | |
| --- | --- | --- |
| | This article or section is Under Construction. | |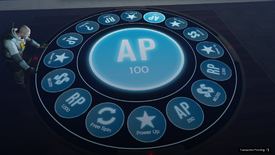 Arena Points (AP) is a feature added in Grand Theft Auto Online as part of the Arena War update.
Overview
The Arena Points work as a separate experience point system similar to the Reputation, with the sole difference in that AP is earned through the Arena War modes only when the player owns an Arena Workshop (otherwise, they only earn RP points). There are three ways of earning Arena Points:
Participating in an Arena Mode. APs are proportional to the number of players and their performance, meaning players will earn 100 Arena Points by winning a game in a match with a considerable amount of players.
Earning through the Arena War Wheel. Whenever a player is eliminated in certain modes, a wheel pops up and they are given the opportunity to earn AP if it lands on the corresponding slots (chances are 3 out of 16; though the random slot may give AP as well). In the Spectator Box, one can pay $5,000 to spin the electronic wheel, but their rewards are doubled compared to the free spin given upon death, including AP. Note that the wheel is not available on certain modes, such as Games Masters.
Killing other players as spectator. A small amount of AP is given to the player if they manage to take out an enemy player with either a drone, an RC Bandito, or a turret.
The first rank is unlocked by earning 60 AP. The amount of additional AP required for each following rank grows by 10 each time, meaning 70 Arena Points for rank 2, 80 for rank 3, and 10n+50 for the nth rank. The accumulative amount of AP required to reach rank n can be expressed as
Sponsorship Tier
Each experience bar represents a level defined as Sponsorship Tier, which gives the player a reward, ranging from RP bonuses and Arena clothes to discounts on vehicle modifications and trade prices. Note that rewards are picked randomly. Discounts earned through these rewards are tracked by the laptop in the player's workshop, under specific categories.
Specific tiers also gives special vehicles that can be requested from Pegasus, which are either rare vehicles found in Grand Theft Auto V or standard vehicles that have no option for purchase or even being able to be stored in garages.
Rewards
Unlocked Arena War clothing can be purchased at any clothes shop

. Arena War masks can be purchased from Vespucci Movie Masks.
"
Sponsors are telling me you've earned some new gear. Head over to any shop in LS and they'll have it listed for sale.
"
— Bryony's text
"
New sponsorship tier, new item of clothing. Time to go shopping!!
"
— Bryony's text
You have unlocked a trade price for the [Variant] [vechicle]. Go to www.arenawar.tv to purchase this vehicle for a discounted price.
"
You're killing it in the arena. I've been granted permission from our sponsors to get you a trade price deal on a vehicle. Go to www.arenawar.tv and check it out.
"
— Bryony's text
"
Your TV career is keeping Alan happy... and that means a vehicle trade price deal. Go to www.arenawar.tv to have a look at the discount.
"
— Bryony's text
Unlocked Arena War vehicle modifications can be purchased at your Arena Workshop.
"
Nice - you've just earned yourself a new vehicle mod. Head over to Sacha if you want to take a look.
"
— Bryony's text
"
Sponsors have lined up a new vehicle mod for the arena. Sacha can hook you up.
"
— Bryony's text
| Tier | AP | Reward | Notes |
| --- | --- | --- | --- |
| 25 | 4,500 | Taxi | Red and Black paint job with "Classic Rod" wheels and Whitewall tires. |
| 50 | 15,250 | Dozer | Matte Green paintjob. |
| 75 | 32,250 | Clown Van | |
| 100 | 55,500 | Trashmaster | "Heist" variant with rusty rear. |
| 200 | 211,000 | Barracks Semi | |
| 300 | 466,500 | Mixer (second generation) | Black and White paintjob. |
| 500 | 1,277,500 | Space Docker | |
| 1000 | 5,055,000 | Tractor | |
Skill Level
The Skill Level is a separate level that determines the player's performance in the Arena War modes. It appears at the end of each match.
The Skill Level has a unique scoring system, where in order to increase a level, the difference between wins and losses must be equal to the level that is to be reached next. For example, in order to increase to level 8, the player must achieve 8 wins more than they have losses.
Every time a new level is reached, the counter of wins and losses resets. So, for example, after reaching level 8, the player needs to win 9 times (and not just once more) to reach level 9. Leaving the match equals to losing the event.
The difference between wins and losses can never be negative. For example, if a skill level 4 player has scored 18 losses and 0 wins, in order to level up to 5, they need to win only 5 events, not 23.
The maximum Skill Level is 20, and rewards the player with a Go Go Monkey Blista.
The Skill Level can be increased in either Public or Private matches, the latter being a perfect opportunity if the player decides to play private matches with a friend, since one can easily let the other win every time, reaching the maximum level quickly without risking the progress.
Skill Levels gives the player the corresponding awards, along with a small amount of money proportional with the skill level, starting from $2,500 and increments in the same amount, up to $50,000 for reaching Level 20 (earning a total of $525,000).
The Skill Levels are as follows:
1 - New Kid
2 - Field Filler
3 - Armchair Racer
4 - Learner
5 - Gifted Amateur
6 - The Rookie
7 - Bump & Run
8 - Gear-Head
9 - Pinball
10 - Semi-Pro
11 - Arena Vet
12 - Paint Trader
13 - Shunter
14 - Jock
15 - Wrecking Ball
16 - First in Field
17 - Gladiator
18 - Ring Master
19 - Arena Warrior
20 - Arena Legend
When not participating in any Arena War mode at all, their Skill Level is technically set to "0". Winning a single match, however, raises their Skill Level to 1, and stays on that level.
Gallery
External links