Wikipedia
Apple Macintosh are a series of personal computers developed and marketed by Apple Inc. Unlike the PC, Macintosh line of computers have their own operating systems, namely the "Classic" Mac OS and the current macOS (previously Mac OS X, then OS X) (for more information, see below).
Operating Systems
Mac OS/Macintosh System Software are a series of graphical user interface-based operating systems developed by Apple Inc. It is the first operating system operated under Macintosh line-of-computers. It is known for being the first system aimed at the general public have a graphical interface consisting of mouse interaction with windows, icons, et cetera. The first version was first released in 1984 and 9 major versions of the Classic Mac OS were released, with Mac OS 9 (the final version) launched in 1999. It was then succeeded by Mac OS X (renamed OS X and then macOS with the release of 10.12).
macOS is the line of graphical operating systems which succeeded the original Mac OS. There have been thirteen releases of macOS, the latest being macOS 10.14 "Mojave".
Although the Mac's operating system has been widely criticized for its lack of support and "incompatibility with gaming", some Grand Theft Auto games have still been officially released for it. The lack of support for Grand Theft Auto games on macOS has more to do with Rockstar Games lack of interest in releasing ports rather the Macintosh's inability to run games.
Modern Mac hardware can have Windows installed to run natively, although the general use of mobile graphics in all-in-one models such as iMacs (like in all-in-one PCs), as well as the inability to overclock processors and graphics cards, GTA games for Windows can theoretically run although the performance would be inferior to that on a PC. This is mainly due to a generally lower user base compared to PC market dominance (especially among gamers) for various reasons such as the gamers inability to build a custom Mac from off the shelf parts, Apples use of often outdated and shoddy OpenGL/OpenCL framework implementation and Apple's lack of focus on appealing to gamers. This has changed recently since macOS 10.11 "El Capitan" adopted a low level graphics acceleration API similar to Directx on Windows called "Metal" and the up and coming Vulkan API being available on the Macintosh.
Grand Theft Auto games on Macintosh
Rockstar and Take-Two Interactive first released a Mac version of Grand Theft Auto: The Trilogy, a compilation of three main instalments of the Grand Theft Auto series in the 3D Universe, on 22nd November 2010.
The following GTA games have been released on the Mac App Store: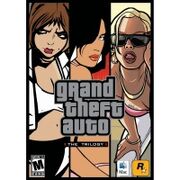 Community content is available under
CC-BY-SA
unless otherwise noted.