Fire Emblem Warriors: Three Hopes - The Loop
Play Sound
---
---
"
You are nothing but a murdering, cheating, hypocrite! Thank you, Michael, whatever the fuck our fake last name is. You have ruined my serenity yet again. My yoga is fucked!
"
— Amanda De Santa to
Michael De Santa
in
Fame or Shame
.
Amanda De Santa, formerly Amanda Townley, is a character in the Grand Theft Auto series who appears as a main character and the secondary tritagonist to Michael De Santa in Grand Theft Auto V.
History
Background
Amanda was working as a stripper alongside her sisters when she first met Michael Townley in a strip club her mother owned. At some point Michael bought breast implants for her and made money using her as a prostitute. Eventually, they wound up dating, getting married, and having two children together, Jimmy and Tracey. During this time, Michael led a career of bank robbing, alongside Trevor Philips and Brad Snider, who met Amanda and her family, at some point.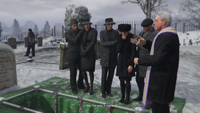 Fearing for his family's safety in 2004, Michael made a covert deal with corrupt FIB agent Dave Norton to sell out his crew during a robbery at a cash storage facility in Ludendorff, fake his death, and walk out a free man, while Norton got the publicity for taking down the famous bank robber, Michael Townley. Michael told Amanda his plan, who was skeptical, but he assured her that it was all to protect her. Amanda's misgivings about the plan prove true when Brad ends up shot and the one who they really wanted dead due to his psychotic nature, Trevor, escapes. Despite this, Michael and his family eventually assume Trevor to have died. Amanda attends Michael's "funeral", before moving to Los Santos with her family.
While living their new life, Amanda's relationship with Michael and her kids become sour, as she doesn't approve of Tracey and Jimmy's lifestyles, while constantly arguing with Michael, barely tolerating him. Michael spends his time drinking, moping, and losing his temper at her, forcing her to raise their kids without input from him, while also spending his money freely on expensive clothing, jewelry, and plastic surgery. She stayed faithful to Michael until she caught him having sex with a stripper, leading to her cheating on Michael with many different men.
At some point in the summer of 2012, Amanda rented out their house to porn producers, without her husband's knowledge.
Events of Grand Theft Auto V
Broken relationships
— Amanda after Michael goes after Kyle.
While Franklin Clinton breaks into Michael's House to repossess Jimmy's car, he briefly sees Amanda in the kitchen with her tennis coach, Kyle Chavis, as he seductively "demonstrates" to Amanda how to properly use a tennis racket.
Afterwards, while Michael tries to relax by the pool, he put on earbuds playing music to drown out the sound of Tracey arguing with Amanda about how her then boyfriend, Gary Scales, can't sleepover that night because Amanda thinks that he's a "bum", and accuses him of being homeless. Tracey angrily denies this, screaming that he just doesn't have anywhere else to stay.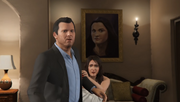 When Michael catches Amanda and Kyle having sex in his own bed, Kyle, in panic, jumps out the window to escape. Michael follows after him, even though Amanda tries to stop him. With the help of Franklin, who Michael had previously befriended, the pair chase after the tennis coach.
When Michael finds a brick of weed belonging to Jimmy in the fridge, he and Amanda argue until her yoga instructor, Fabien LaRouche shows up, further angering Michael. When Jimmy walks into the kitchen looking for his weed, he insults Michael for taking it, causing Michael to confront him, which Amanda tries to defuse. Suddenly, Trevor Philips appears, surprising everyone. After an awkward reunion with Michael, he greets Amanda before learning, along with Michael, that Tracey was auditioning for the TV show Fame or Shame. Fearing that she was going to embarrass herself, Michael and Trevor rush off to stop her.
Amanda later calls Michael after she is caught shoplifting from a fancy clothing store. If Michael decides to help her, he steals the police car, with a handcuffed Amanda held in the back seat and flees from the police. As he takes Amanda home, Michael chastises her habit of stealing things, to which Amanda points out that Michael is just as bad, with his past criminal life. If Michael decides not to help her, she takes money from Michael's bank account.
Leaving Michael
"
You are ALONE, you pathetic psychopath!
"
— Amanda, before leaving Michael.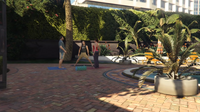 Later, as Michael and Amanda are arguing about Michael smoking in the house and Trevor's return, Fabien arrives once again and invites both of them to a yoga session to relax. Michael agrees join them, much to Amanda's frustration. The session goes well until Fabien attempts to straddle Amanda in a yoga position. Michael gets angry and lunges at Fabien, who dodges him, causing Michael to fall into his swimming pool. Having reached her breaking point with her husband's behavior, Amanda denounces Michael and angrily declares that she will leave him and never return. She leaves a note for Michael saying that she, Jimmy and Tracey have decided to move in with Fabien due to Michael's recent misconduct, and threatens legal action against him, leaving her husband distraught.
While Amanda leaves, she tries to make Michael jealous by leaving posts on his Lifeinvader page saying that Fabien satisfies her physically, emotionally and spiritually. However, after some time, she begins to realize that Fabien is even more vain and self-obsessed than Michael ever was, spending more time focusing on yoga and making numerous colon-related insults at her, Jimmy and Tracey. She calls Franklin, asking if Michael is still alive and leaves a message on his Lifeinvader page, telling him to let her know that he is safe.
Reunited family
"
Listen, Michael, I'm so glad we're back together and making a go of things. After everything we've been through, I just couldn't give up on our family. Yes, you're awful and clearly you're never going to change, but I guess I want to bury you, when the time comes, as your wife.
"
— Amanda, in an e-mail sent to Michael after the mission Reuniting the Family.
After a few weeks, Jimmy finally visits the house to see Michael. He claims that Amanda is not happy with Fabien any longer, and that she is at a Bean Machine café with him. The pair then leave and show up at the café. When Michael and Jimmy arrive, Fabien insults both of them, to which Amanda responds by asking Michael to hit him, which he does with a nearby laptop. Satisfied, Amanda tells Michael to take himself, along with Jimmy and Tracey to Dr. Friedlander's therapy office, after which she leaves with Fabien, presumably taking him home. During the therapy session, the couple vent and argue at each other, but by the end they are both satisfied with being able to release years of pent-up anger. They both promise to try and make each other happy and no longer cheat on each other, and Amanda and the children move back in.
Soon after, she and Tracey are held hostage by Merryweather Security under orders of Devin Weston, whom Michael inadvertently angered when his attempt to stop him from canning a movie he was working on resulted in his lawyer being killed when she ran into an active jet engine trying to escape Michael. Michael kills all the Merryweather operatives, except one, who manages to throw him on the ground. Before he could kill the De Santas, however, Jimmy saves his family by knocking out the Merryweather operative, though he teabags Michael instead, accidentally. Afterwards, Amanda, Jimmy and Tracey move out of the property for their own safety.
Ending
"
We're stuck with each other. And that's as close to a "I love you" as I've been in a very long time.
"
— Amanda about the future of her relationship with Michael.
The Third Way
After the
final mission
, Amanda and Michael will no longer be seen fighting and if Michael speaks with Amanda, she will no longer complain or be sarcastic with him, now being more friendly. When taken on friend activities with her husband, they both will be more tolerant with each other while hanging out; during the first of which, they promise to be faithful to each other. Amanda and her children can often be found sitting on the couch, contentedly watching TV together, or gathered around the kitchen table engaged in conversation.
Something Sensible
After the
final mission
, Amanda and Michael will no longer be seen fighting and if Michael speaks with Amanda, she will no longer complain or be sarcastic with him, now being more friendly. When taken on friend activities with her husband, they both will be more tolerant with each other while hanging out, During the first of which, they promise to be faithful to each other. Amanda and her children can often be found sitting on the couch, contentedly watching TV together, or gathered around the kitchen table engaged in conversation.
The Time's Come
Amanda will no longer appear in the game after the
final mission
, but will send an e-mail to Franklin, saying that she knows that he has something to do with Michael's death, and warns him to never come close to her family again. Franklin responds by denying he killed Michael. Michael's associate,
Lester Crest
transfers the money Michael made in a
heist
at the
Union Depository
to Amanda, and she sells their house.
Mission Appearances
Grand Theft Auto V
Gallery
Trivia
The number plate for Amanda's Sentinel is 'KRYST4L'. 'KRYST4L' is leet-speak for 'crystal', which was Amanda's stripper name.
Amanda appears to have a drinking problem, and also appears to be a kleptomaniac.
While switching back to Michael, there is a chance he'll walk in on Amanda in their bedroom while she's masturbating; she'll throw away a dildo, saying she thought the door was locked, and goes to sleep. If the player is playing as Trevor/Franklin and sneaks into the house and catch her on the act, they can see her continuing with the masturbation.
Amanda's favorite radio stations are most likely Space 103.2 and The Lowdown 91.1, as they are the default radio stations of her Sentinel.
Despite the fact that she uses Michael's affairs as ammunition in her arguments with him, she herself has affairs with Fabien LaRouche, Kyle Chavis, Jimmy's third grade teacher, a juice seller, a dog walker, their gardener Carlos, a rubbish collector, Michael's proctologist, a Jesus Christ impersonator, and a homeless, doomsaying hippy. She, Jimmy, and Tracey all refer to these liaisons quite casually in the mission Reuniting the Family.

On the website "Hushsmush.com", the player has the possibility of running into a page with a user dubbed foxymama21 that very clearly indicates that it is her, even though it is never explicitly said. In her description, she indicates that she "has the mind and body of a girl half [her] age" (She is 43, according to her info), but her husband ignores her and he spends his time drinking in the pool, and is looking for someone to satisfy her in her "prime". It also mentions that she loves yoga.

Looking through the game files of the PC version, an unused image for foxymama21 reveals that she is Amanda. This also implies that she owns an iFruit phone.

Trevor and Amanda's dialogue, when playing Tennis at the mansion indicates they might have been friends, before Michael's "death".
When playing as Franklin and/or Trevor and the player injures Michael; or if playing as Michael followed by getting knocked out by either Franklin and/or Trevor for stalking, Amanda will sometimes text either of the two on Michael's behalf in an infuriated manner.
During an activity with Michael, if the player gets drunk, Amanda will say she liked one of his old friends. A shocked Michael will then exclaim "Trevor?", but Amanda will respond "No, the other one."
During an activity with Michael, Amanda will mention to him that her mother was right about him. He will retort with that Amanda's mother put her daughters on stage at the strip joint and was a manipulative pimp.
During an activity with Michael, Amanda tells him that she wishes to teach yoga and tennis to the homeless, a heavily edited dream that she only settles on after Michael scoffs at simply teaching the activities, commenting that there are "far too many" of both in Los Santos already.
If Franklin or Trevor steals Amanda's Sentinel, Michael will text one of two things, either: "Amanda knows you have her car, and she is on the warpath." or "Piss me off, man. But you do NOT want to get on the wrong side of Amanda."
In The Contract update for Grand Theft Auto Online, Amanda is indirectly referenced by Franklin to the GTA Online Protagonist when he says that some rich people's wives may be having affairs with their tennis coach.
References
↑ She claims to be 43 on her Hush Smush profile (Username: Foxymama21)