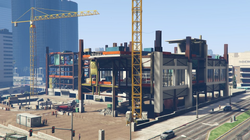 The Alta Contruction Site is an unspecified building site under construction by STD Contractors in Grand Theft Auto V.
Description
The construction site is located on the block bordered by Alta Street, Occupation Avenue and Power Street in Alta, Los Santos.
The site has two multi-level buildings being erected by crane.
Molly Schultz implies in her meeting request to the protagonists that Devin Weston has some involvement in the development.
Prominent Appearances in Missions
Grand Theft Auto V
Grand Theft Auto Online
Freemode Events
Gallery