Alfonso Vasquez is a character in the HD Universe, appearing in Grand Theft Auto IV.
Description
Alfonso Vasquez is a millionaire living in Liberty City who was born in Mexico City, Mexico. He immigrated to the US in the 1970s, when he would have been in his twenties. Alfonso Vasquez is a cocaine baron controlling a number of Mexican cartels. Even though his own daughter January Natasha Vasquez has become a cocaine addict, he still continues his drug empire. Alfonso was once arrested with a large shipment of cocaine, but the charges against him were dropped. Alfonso has a fortune of about 500 million dollars, from which his wife took half. An unusual sex tape was made with Alfonso, involving wrist exercise and a sock. He was masturbating in a locked bathroom.
He is a parody of Joaquín "El Chapo" Guzmán, the former leader of the Sinaloa Cartel in Mexico. Similar to Vasquez on I'm Rich, Guzmán was placed on Forbes magazine's lists of the 1000 richest and 50 most powerful people in the world, followed by public criticism of Forbes for glamorizing an extremely dangerous criminal.
LCPD Database record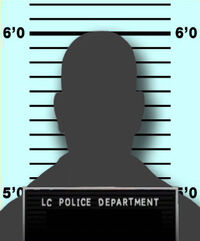 | | |
| --- | --- |
| Surname: | Vasquez |
| First Name: | Alfonso |
| Age: | 59 |
| Place of Birth: | Mexico City, Mexico |
| | |
| --- | --- |
| Affiliations: | |
| Criminal Record: | 2001 - Possession Controlled Substance: Intent to Sell |
Notes:

Immigrated to the US from Mexico in the 1970s.
Rumored to have a personal fortune in excess of $500 million.
Believed to be a cocaine baron with control over a number of Mexican cartels.
Arrested with large shipment of cocaine in 2001 but charges were dropped.
Involved in a wide range of legitimate business interests and humanitarian work.