Albany is an automotive company in the HD Universe of the GTA series.
Overview


It is a luxury automaker, based on Cadillac. Albany, along with Bravado, Declasse and Vapid, is one of the largest manufacturers in the HD Universe.
Albany has two logos that are widely used, a silver "A" with a crown within, and a crowned rectangular emblem. The first one is mainly used on older models (with the exception of the Cavalcade and Cavalcade FXT) and the second is typically used on much more modern models, but since their oldest car shown so far, the Roosevelt, uses the logo for newer cars, it is likely that it was the original logo that was replaced and later brought back into use (assuming its use on the Roosevelt wasn't an oversight).
Vehicles
Dealership Locations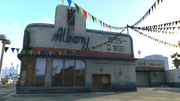 Trivia
The old logo is vaguely similar to that of real-life manufacturer Maserati, however it's probably a coincidence since the two companies have nothing else in common.
The name Albany is likely a nod to the capital of Liberty City's real life counterpart, New York.
There is a real-life defunct car manufacturer named Albany.
The Washington is the only Albany car not based on a General Motors product, as the Washington is a based upon a Lincoln Town Car.
Although the first logo may look like any other typical crown, it however contains sexually explicit materials. If observed closely, it is visible that the crown is made up of four men with erect penises. Two can be seen on the most left and right leaning wheras the other two can be seen in between them facing back to back.
Gallery
REDIRECT Template:HD vehicles manufacturers