| | | |
| --- | --- | --- |
| | This article or section is Under Construction. | |
"Powered by SecuroServ."
―In-game tagline.
Ad-Hawk Autos is a website in Grand Theft Auto Online, part of SecuroServ, added as part of the Import/Export update for the Xbox One, PlayStation 4 and PC.
Description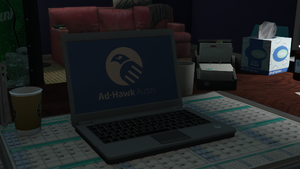 Similar to the Ad-Hawk website, Ad-Hawk Autos is only accessible in a Vehicle Warehouse, on a small laptop in the office section of the warehouse.
The website is an integral part of the Vehicle Cargo work and allows the player to export any vehicles in their warehouse, through the means of exporting to random buyers, or exporting as part of a vehicle collection required by high-end buyers.
Export
Once the player has collected vehicles, they are able to export them, with the help of the mod-shop mechanic. When selecting a vehicle to export, they will be prompted with 3 options; a private buyer, a showroom buyer, or a specialist dealer.
Collection
Some buyers want a collection of cars with certain license plates and styles. Players in Organizations will be able to export from two to four cars simultaneously. By completing these, players will be awarded with a bonus for the collection.
Collections
Uninsurable
Collector: Jay Norris
Collection Bonus: $35,000
Birds of Paradise
Collector: Curtis Cray Esq
Collection Bonus: $50,000
Fading Power
Collector: Keith Collins MD
Collection Bonus: $20,000
No Direct Sunlight
Collector: DJ Playlist
Collection Bonus: $35,000
Stay Declasse
Collector: Ms. M Schultz
Collection Bonus: $35,000
Molten Metal
Collector: Ronnie Bonelli
Collection Bonus: $50,000
Pastel Perfection
Collector: Cloe Parker
Collection Bonus: $35,000
Hip to be Square
Collector: Tao Cheng
Collection Bonus: $50,000
Shades of Blue
Collector: Cris Formage
Collection Bonus: $50,000
End of Empires
Collector: The Sultan of Amir
Collection Bonus: $20,000
Export Vehicles
All current vehicles in the warehouse are listed on the main page and are displayed along with their registration plate. Some of the vehicles in the player's warehouse may be part of the special Collection listed above, meaning the player should always be alert and stock up these collection batches.
All colors and modification combinations remain the same each time. There are 32 vehicles, with 3 variations of each vehicle, totaling to 96 combinations.
Community content is available under
CC-BY-SA
unless otherwise noted.