| | | |
| --- | --- | --- |
| | This article or section is Under Construction. | |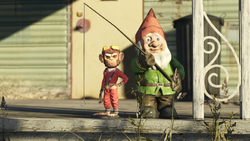 Action Figures are a collectible in Grand Theft Auto Online, added as part of the continuation of the The Diamond Casino & Resort update, released on September 5, 2019, during the Gauntlet Hellfire Week.
Description
The player will receive a text from a contact from the Hardcore Comic Store in West Vinewood, who was given the player's number by Lester. They will explain that their nemesis had stolen their action figures and that the player will receive a reward if they find them.
There are one hundred action figures scattered throughout the state of San Andreas, located outdoors or inside various buildings. They can have different appearances, such as that of Republican Space Rangers, Impotent Rage, Princess Robot Bubblegum, Aliens or Monkeys.
The last two will only spawn after collecting all others, at the Thomson Scrapyard. These two are different from the others, as they are action figures of the Beast and Bigfoot. This is a reference to the hidden fight between the real versions of the two.
Once collected, they each give the player $1,000 and 1,000 RP. After collecting all action figures, the player will receive another text from the contact, telling them to go to the store. Once there, the protagonist will walk into the store and then exit, wearing an Impotent Rage outfit and with a new hairstyle. They will also receive an additional GTA$50K.
Locations
| Ref Number | Location Description | Image | Map |
| --- | --- | --- | --- |
| 1 | Inside a locker at the back of Devin Weston's hangar at LSIA. | | |
| 2 | At the back of the Crastenburg sign at the Von Crastenburg Hotel at LSIA. | | |
| 3 | Inside the small office building at Pier 400, Elysian Island. | | |
| 4 | Inside the Bugstars Warehouse, Elysian Island. | | |
| 5 | Inside the checkpoint booth at the entrance to the Los Santos Naval Port. | | |
| 6 | In a bus wreck at the southernmost part of Murrieta Oil Field. | | |
| 7 | At the back of a warehouse in Murrieta Oil Field. | | |
| 8 | East of the Ammu-Nation store in Cypress Flats, near some garage doors. | | |
| 9 | On the base of one of the Rancho Towers in Rancho. | | |
| 10 | In the office of the LTD Gasoline store in Davis. | | |
| 11 | In the dog house in front of a house in Chamberlain Hills. | | |
| 12 | On a washbasin at a public restroom in Rancho. | | |
| 13 | Under the motorway in Strawberry. | | |
| 14 | Near some decorative items in Textile City. | | |
| 15 | In a booth next to the train tracks in La Mesa. | | |
| 16 | On a bulldozer plate in the Los Santos Storm Drain in La Mesa. | | |
| 17 | On a shelf inside the El Burro Heights Fire Station. | | |
| 18 | On a washbasin at a public restroom near the lake in Mirror Park. | | |
| 19 | Inside a garage at The Lost MC Clubhouse in East Vinewood. | | |
| 20 | In the maintenance tunnels, near the entrance in East Vinewood. | | |
| 21 | In the maintenance tunnels, near the train tracks. | | |
| 22 | On a bench at the underground Burton Station. | | |
| 23 | On the navigational arrow sculpture at the Arcadius Business Center, Pillbox Hill. | | |
| 24 | On the fountain at the plaza next to the Maze Bank Tower. | | |
| 25 | In the office inside the LTD Gasoline store in Little Seoul. | | |
| 26 | At the base of a billboard stand on the south side of Vespucci Canals. | | |
| 27 | On the northwest side of Vespucci Canals. | | |
| 28 | In the mouth of a sculpture of a shark on Vespucci Beach. | | |
| 29 | In a rubbish bin at the Pleasure Pier on Del Perro Pier. | | |
| 30 | On the railing of a lifeguard tower on Del Perro Beach. | | |
| 31 | Leaning on a grave at the Hill Valley Cemetery. | | |
| 32 | On a table at an Up-n-Atom Burger restaurant on the upper floor of the Del Perro Plaza. | | |
| 33 | In a trailer near the east entrance of Richards Majestic. | | |
| 34 | Behind some railing in an alleyway in Burton. | | |
| 35 | On the stairs of a building in Downtown Vinewood. | | |
| 36 | On the sign of the Hardcore Comic Store in West Vinewood. | | |
| 37 | In a passageway of a house on Milton Road, West Vinewood. | | |
| 38 | Next to a tennis court of a mansion on Steele Way, Rockford Hills. | | |
| 39 | In the small cave at the Richman Mansion in Richman. | | |
| 40 | On the southern side of GWC and Golfing Society. | | |
| 41 | At the base of one of the sculptures at the Kortz Center. | | |
| 42 | On a sofa on the upper part of a mansion in Richman. | | |
| 43 | On a lamp at the Parsons Rehabilitation Center in Richman Glen. | | |
| 44 | At the small children's playground at the Vinewood Hills Dog Exercise Park, Vinewood Hills. | | |
| 45 | Near a pool at one of the mansions in Lake Vinewood Estates. | | |
| 46 | At the intake tower of Lake Vinewood. | | |
| 47 | On one of the benches at the Vinewood Bowl. | | |
| 48 | At the top of the letter N of the Vinewood Sign. | | |
| 49 | Next to a pool, behind the mansion at La Fuente Blanca. | | |
| 50 | Inside the lower part of the Land Act Dam. | | |
| 51 | On the sign next to the entrance of the NOOSE Headquarters. | | |
| 52 | At the back of the 24/7 at the Tataviam Truckstop. | | |
| 53 | Inside the train control tower near the Palmer-Taylor Power Station. | | |
| 54 | In a presumed dog house at a house in the Grand Senora Desert, east of the Redwood Lights Track. | | |
| 55 | On a shelf next to a large building, south of the Redwood Lights Track. | | |
| 56 | At a large waste container at the Cherry Pie Farm, Great Chaparral. | | |
| 57 | At the juice stand at the summit of the Arthur's Pass Trails, Vinewood Hills. | | |
| 58 | Next to the Abandoned Mine in Great Chaparral. | | |
| 59 | On a red kayak at the White Water Activity Center in Tongva Valley. | | |
| 60 | At a bar next to the pool at the Pacific Bluffs Country Club. | | |
| 61 | At the back of the Rob's Liquor store in Chumash. | | |
| 62 | In a large waste container next to the 24/7 store in Chumash. | | |
| 63 | At the RON petrol station at the west part of Route 68. | | |
| 64 | Near the entrance to the main building at Marlowe Vineyards. | | |
| 65 | At the jets statue next to the Fort Zancudo Approach Road. | | |
| 66 | On a tree trunk in the cemetary of the Hill Valley Church in Great Chaparral. | | |
| 67 | Next to a trailer in west Harmony. | | |
| 68 | In the office part of the Los Santos Customs in Harmony. | | |
| 69 | In the northeast guard tower at Bolingbroke Penitentiary. | | |
| 70 | In the control tower at the Sandy Shores Airfield. | | |
| 71 | At the entrance of a house in northern Sandy Shores. | | |
| 72 | At the back of the Liquor Ace store. | | |
| 73 | On the back part of a ship next to a house, west of the Sandy Shores Airfield. | | |
| 74 | On a toilet at Stab City. | | |
| 75 | In a large rubbish receptacle next to Fort Zancudo. | | |
| 76 | In one of the oxidation ponds at the Zancudo Treatment Works. | | |
| 77 | Next to some portable toilets in a small building behind the Hookies bar in North Chumash. | | |
| 78 | Outside the shed on one of the islands in Paleto Cove. | | |
| 79 | On the lumberjack statue at the Bayview Lodge. | | |
| 80 | Inside the Paleto Forest Sawmill in Paleto Forest. | | |
| 81 | In the small cave below the Altruist Camp. | | |
| 82 | Inside the tunnel under Mount Chiliad, on the side of the road. | | |
| 83 | At the observation deck atop Mount Chiliad, to the left of the strange mural. | | |
| 84 | In a large rubbish receptacle next to a house in Paleto Bay. | | |
| 85 | On the far right of a sill below a shutter in the Clucking Bell Farms in Paleto Bay. | | |
| 86 | At the end of a drainage tunnel on Procopio Beach. | | |
| 87 | On top of a weathered sofa at Dignity Village. | | |
| 88 | On top of a weathered sofa at Braddock Farm. | | |
| 89 | Inside of a tire on the side of an abandoned warehouse in Galilee. | | |
| 90 | Inside of a Rainé vending machine inside of an abandoned supermarket in Grapeseed. | | |
| 91 | In the opening of a barn at the O'Neil Ranch, Grapeseed. | | |
| 92 | Inside of a doghouse at the house near the El Gordo Lighthouse. | | |
| 93 | On top of a wooden post on the front porch of a house in Catfish View. | | |
| 94 | On top of a shelf inside a small train station in the San Chianski Mountain Range. | | |
| 95 | On the front porch of Maude's trailer in Grapeseed. | | |
| 96 | On the hood of a beater Regina in Sandy Shores. | | |
| 97 | Inside the 'U' on the Humane Labs and Research sign. | | |
| 98 | On the desk in the control center at Davis Quartz. | | |
| 99 | On top of a plane fuselage in the Grand Senora Desert. | | |
| 100 | Inside the door of a plane wreck in the Grand Senora Desert, next to the previous action figure. | | |
Gallery
Video