"100% achieved! Stats and cash have been boosted! Rhino and Hydra delivered to CJ's house in Grove Street."
— Message received upon 100% completion.
Attaining 100% Completion in Grand Theft Auto: San Andreas requires the completion of numerous tasks, listed below.
However, GTA San Andreas has extra tasks that are not required for the achievement but are also available to complete; many players refer to this as "110%".
100% completion
Story missions
Introduction
Side missions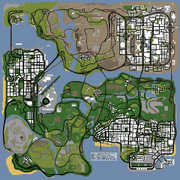 Los Santos Race Tournaments - win 1st place
San Fierro Race Tournaments - win 1st place
Las Venturas Freight Depot Race Tournaments - win 1st place
Vehicle challenges
Vehicle missions
Other missions
Others
Rewards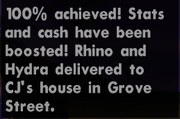 When 100% is achieved in San Andreas, the following rewards are given.
Non-required tasks
Missions
Sports
Minigames
Gambling games:

Inside Track
Wheel of Fortune
Roulette
Blackjack
Video Poker
Slot Machines
Collectibles
Purchases
Stats
Having all gang territories under 100% control
Getting 100% progress with all six girlfriend relationships
Maxing out all skills: Stamina, Lung Capacity, Driving skill, Flying skill, Bike skill, Cycling skill, Gambling skill
Maximum Muscle, total Respect and Sex Appeal
Getting Hitman skill level (1000 points) with all weapons: Pistol, Silenced Pistol, Desert Eagle, Shotgun, Sawn-off Shotgun, Combat Shotgun, Machine Pistol (Micro SMG or Tec-9), SMG, AK47 and M4
Having "King of San Andreas" Criminal Rating
Having a total Money of $999,999,999
Video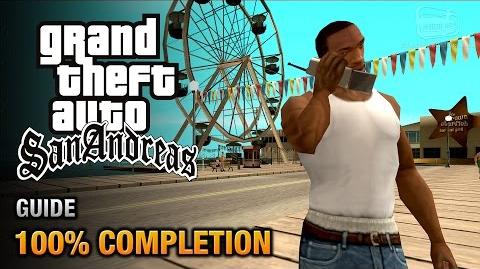 Notes
Community content is available under
CC-BY-SA
unless otherwise noted.